Gingersnaps
A Classic Cookie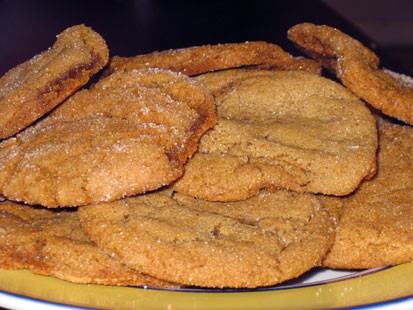 From the kitchen of Lindsey Antis
|
Ingredients
For the compote
10 1/2 tablespoons butter
1 3/4 cups granulated sugar
2 eggs
1/2 cup plus 2 tablespoons molasses
4 teaspoons vinegar
2 1/4 cup white bread flour
1 tablespoon baking soda
1 tablespoon ground ginger
3/4 teaspoon ground cinnamon
3/4 teaspoon ground cloves
3/4 teaspoon ground cardomon (a coffee grinder is great for this)
Cooking Directions
In the mixer with the paddle attachment, cream the butter and sugar, scraping down the sides of the bowl frequently. Sometimes some butter gets stuck on the bottom and frequent scraping helps prevent this. Add the eggs, one at a time. Add the molasses and the vinegar slowly if you add too quickly the cookies will spread avoid when they are baked.
Sift the dry ingredients together. Add the dry ingredients to the creamed butter mixture and mix just to combine. Form the dough into flat rectangle. Wrap and chill the dough until firm. This will also prevent overspreading during baking. Divide the dough into 50 small, equal portions. I simply cut the dough with 5 rows x 10 columns so that I didn't have to estimate each cookie. Roll dough into small balls. Dredge the balls in sugar. Place the cookies on a parchment-lined sheet pan. Bake cookies at 350°F for 7-10 minutes. They will spread a little, the sugar crust will crack, and the cookies will begin to firm up in the middle. Let them cool for about 20 minutes
Additional Notes
*Well-wrapped unbaked cookies can be refrigerated for four or five days.
*Baked cookies may be stored in an airtight container for several days or frozen.
Courtesy of "The Fundamental Techniques of Classic Pastry Arts"
Other Recipes That You Might Like