Home
>
GMA
>
Recipes Home
>
Roasted Duck w/ Corn Pudding, Squash Runners, Anise Hyssop & Wild Huckleberry Sauce
Roasted Duck w/ Corn Pudding, Squash Runners, Anise Hyssop & Wild Huckleberry Sauce
Chef Harold Dieterle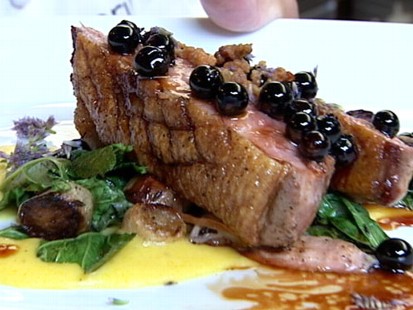 Chef Harold Dieterle gets inspiration at local farmers market.
From the kitchen of Harold Dieterle
|
Ingredients
For the Duck Breast:
1 Duck Breast
1 cup Corn Juice
2T Butter
1/4 cup Squash greens, coarsly chopped
1 Shallot, sliced
1 Garlic clove, sliced
Salt and Pepper, to taste
For the Sauce
1/2 cup Duck Jus
1T Banyuls vinegar
1/6 Vanilla bean, scraped
1 sprig Anise hyssop
1T Sugar
Duck cracklings, as needed
Cooking Directions
Season the duck breast generously with salt and pepper. Place in a saute pan skin side down on low heat for 8 minutes to render the fat. Place in an oven for 6 minutes remove from pan and rest for 5 minutes.
Place the corn juice in a small pot on medium heat. Stir constantly till the sauce thickens to pudding consistency, add salt, pepper and 1T of butter.
In another sauce pan add sugar and banyuls vinegar. Cook till a light caramel forms. Add the duck jus, vanilla bean and anise hysop. Slowly reduce the sauce by half or till sauce consistency.
In a saute pan on high heat, cook 1T of butter till golden brown. Saute shallots and garlic, add squash greens and saute. Season with salt and pepper.
Garnish the dish with warm crispy duck cracklins
Other Recipes That You Might Like