Diane Henderiks' Tomatoes Stuffed with Hawaiian Chicken Salad
From the Dietitian in the Kitchen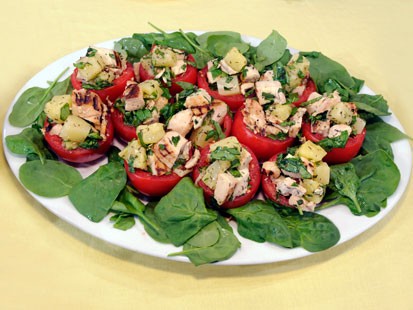 From the kitchen of Diane Henderiks
Before you start, hit the grocery store:
3 3/4lb skinless, boneless chicken breast
14 large tomatoes
2 whole ripe pineapples or 3 – 14oz cans of juice-packed pineapple chunks
1 1/2dozen eggs
17 ounces fresh baby spinach
10ounces lowfat cheddar cheese in block or 2 1/2cups shredded
1pound whole wheat penne pasta
Pantry items
Black pepper
Salt
Chicken or vegetable broth; low sodium
Dijon mustard
Flour
Garlic
Herbs; fresh or dried
Olive oil
Red wine vinegar
Soy sauce; low sodium
Ingredients
4 large tomatoes
1 1/4 lb. chicken breast
1 1/2 c fresh or canned pineapple
3/4 c chopped baby spinach plus 4C whole leaves
1/4 c olive oil
1 1/2 t Dijon mustard
2 t red wine vinegar
2 t dried thyme (or your favorite herbs)
Salt and freshly ground black pepper to taste
Cooking Directions
Slice top 1/2 inch from each tomato and scoop out pulp. Place tomatoes on paper towels, upside down to drain while you make the stuffing. Preheat the grill to high and lightly oil the grates. Grill chicken for 8 minutes on each side for 8 minutes or until juices run clear. Remove from heat, cool and dice (you should have about 3 cups). In a medium bowl, combine chicken, pineapple and chopped spinach.
In a small bowl make the dressing. Whisk together oil, mustard, vinegar and thyme. Season to taste with salt and pepper. Pour 3/4 of dressing over chicken mixture and toss gently. Using a large kitchen spoon, fill each tomato with approximately 1 and 1/3C of chicken mixture. Place 1C of spinach leaves on each of 4 dinner plates: drizzle each portion with the remaining dressing. Place a stuffed tomato on top of each spinach salad and serve.
Click here to visit DishWithDiane.com for more.
Recipe Summary
Main Ingredients: tomatoes, chicken breast, pineapples, baby spinach
Course: Dinner, Brunch, Lunch, Main Course, Party Platter, Vegetable, Side Dish