Garlic-Lime Steak with Avocado Salsa
Dish That's Low on Labor, but High on Flavor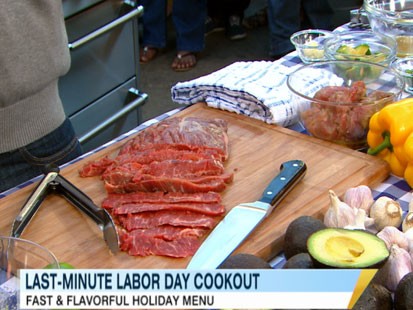 From the kitchen of J.M. Hirsch
The goal here was to make a steak that was mouth-puckeringly savory. The secret ingredients are lime zest and soy sauce. This steak and salsa combo is wonderful as is, or nestled in a warm flour tortilla.
Ingredients
1/4 cup extra-virgin olive oil
Juice and grated zest of 1 lime
1/4 cup seasoned rice vinegar or cider vinegar
1 teaspoon soy sauce
2 teaspoons garlic powder
1/4 teaspoon ground black pepper
1 pound flank steak, cut against the grain into 1/2-inch strips
1 avocado, peeled, pitted, and cubed
1 tablespoon chopped fresh cilantro
2 cloves garlic, minced
Salt, to taste
Cooking Directions
In a medium bowl, whisk together the olive oil, lime juice and zest, vinegar, soy sauce, garlic powder, and pepper. Set aside 2 tablespoons of the mixture.
Add the steak to the bowl and toss to coat. Cover and set aside for 15 minutes.
Meanwhile, in a small bowl, gently toss together the avocado, cilantro, garlic, and reserved 2 tablespoons of the lime marinade. Mix well, then season with salt. Set aside.
Heat the grill to medium high and coat the racks with oil or cooking spray.
Grill the steak slices just until grill marks appear, 1 to 2 minutes per side. Arrange the steak on a serving platter and serve topped with the avocado salsa.
Recipe Summary
Main Ingredients: flank steak, lime, soy sauce, avocado
Course: Dinner, Main Course, Side Dish