Dairy Queen's Good Morning America Blizzard
Try the Special Mocha Chip with Bananas Blizzard Treat!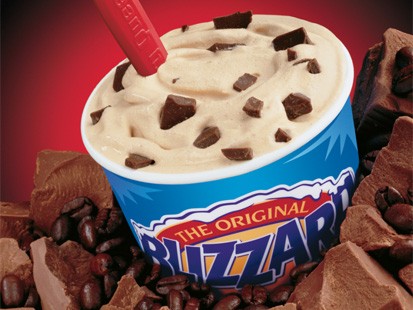 From the kitchen of Dairy Queen
The Mocha Chip with Bananas Blizzard Treat was created especially for "Good Morning America," since the staff at "GMA" has to get up so early to prep for and broadcast the show to millions of homes. Everyone at "GMA" no doubt needs a little coffee to get them up and going. And everyone knows that dairy and bananas are staples at the breakfast table because they're a wonderful source of calcium and potassium! Therefore, we believe that the Mocha Chip with Bananas Blizzard was the perfect choice for everyone at "Good Morning America." Oh, and the chocolate? Well, who doesn't like a little chocolate to start the day?
- From Mary Joyce, Associate Vice President of Product Research & Development for DQ
Ingredients
Vanilla Soft Serve Ice Cream (A true Blizzard requires soft serve, but you can substitute your favorite store-bought vanilla ice cream)
Mocha chocolate chips to taste
Bananas to taste
Cooking Directions
Combine in a blender and enjoy!
Recipe Summary
Main Ingredients: vanilla ice cream, mocha chocolate chips, bananas
Course: Dessert
More Info: Kid Friendly