Roast Turkey, Watercress, and Winter Vegetable Chowder
Versatile Recipe That's Easy to Customize!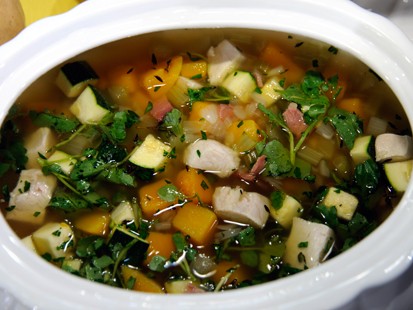 From the kitchen of Dr. Nicholas Perricone
Think of this recipe as a basic formula for improvising with fresh vegetables and seasonings that appeal to you. Toss in a couple of chopped garlic cloves, a handful of torn fresh basil leaves, and a pinch or two of red pepper flakes or a minced chili pepper along with the thyme. Or add a can of drained and rinsed cannellini beans. Be creative. Let your imagination wander. Turn a soup into a hearty meal!
Ingredients
3 slices turkey bacon, diced
1 large yellow onion, cut into 1/2-inch dice
2 large stalks celery, cut into 1/2-inch dice
1 small butternut squash (about 1 pound), peeled,
halved lengthwise, seeded, and cut into 1/2-inch dice
7 cups low-sodium chicken broth
3 cups fresh watercress, cut into 3-inch lengths
2 cups diced roast turkey (1/2-inch dice)
1 medium zucchini, cut into 1/2-inch dice
2 tablespoons minced fresh flat-leaf parsley
1 tablespoon minced fresh thyme
Salt and freshly ground black pepper
Cooking Directions
1. In a heavy 6- to 8-quart saucepan, cook the bacon over medium heat, stirring frequently, until browned. Using a slotted spoon, transfer the bacon to a plate. Set aside.
2. Pour off all but 2 tablespoons of the bacon fat, and return the pot to medium heat. Add the onion and celery, and sauté until the vegetables are soft but not browned, 3 to 5 minutes.
3. Add the squash and the broth, and bring to a boil. Then reduce the heat to a simmer, partially cover the pot, and cook until the squash is tender, about 15 minutes.
4. Add the watercress, turkey, zucchini, parsley, thyme, and reserved bacon. Cook for 3 to 5 minutes.
5. Add salt and pepper to taste. Ladle the soup into warmed bowls or mugs to serve.
Recipe Summary
Main Ingredients: chicken stock, turkey bacon, butternut squash
Course: Lunch, Soup, Snack