Olive Garden's Breadsticks
A Top Secret Restaurant Recipe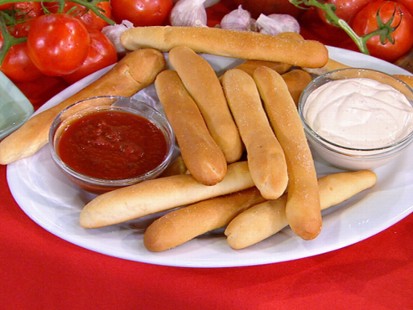 Todd Wilbur prepares popular dishes from your favorite restaurants.
From the kitchen of Todd Wilbur
Anyone who loves Olive Garden is probably also a big fan of the bottomless basket of warm, garlicky breadsticks served before each meal at the huge Italian casual chain. My guess is that the breadsticks are proofed, and then sent to each restaurant, where they are baked until golden brown, brushed with butter and sprinkled with garlic salt. Getting the bread just right for a good clone was tricky -- I tried several different amounts of yeast in all-purpose flour, but then finally settled on bread flour to give these breadsticks the same chewy bite as the originals. I discovered that the two-stage rising process is also a crucial step to making the perfect Top Secret Recipe for these very popular soft breadsticks.
Ingredients
2 tablespoons granulated sugar
3/4 teaspoon active dry yeast
1 cup plus 1 tablespoon warm
water (105 to 115 degrees F)
16 ounces bread flour (3 cups)
1 1/2 teaspoons salt
1/4 cup (1/2 stick) butter, softened
On top:
2 tablespoons butter, melted
1/2 teaspoon garlic salt
Cooking Directions
Dissolve the sugar and yeast in the warm water in a small bowl or measuring cup and let the mixture sit for 5 minutes, or until it becomes foamy on top.
Combine the flour and salt in a large bowl. Use the paddle attachment on a stand mixer to mix the softened butter into the flour. If you don't have a stand mixer, use a mixing spoon to combine the butter with the flour. When the yeast mixture is foamy, pour it into the flour mixture and use a dough hook on your mixture to combine the ingredients and knead the dough for approximately 10 minutes. If you don't have a stand mixer, combine the ingredients and then knead the dough by hand on a countertop for 10 minutes.
Place the dough in a covered container and let it sit for 1 to 1 1/2 hours, until it doubles in size. When the dough has doubled, measure out 2-ounce portions and roll the dough between your hands or on a countertop to form sticks that are 7 inches long. Place the dough on parchment paper-lined baking sheets, cover and set aside for 1 to 1 1/2 hours, or until the dough doubles in size once again.
Preheat the oven to 400 degrees F.
Bake the breadsticks for 12 minutes, or until golden brown. When the breadsticks come out of the oven, immediatelybrush each one with melted butter and sprinkle with a little garlic salt.
Makes 12-13 breadsticks
Recipe Summary
Main Ingredients: sugar, dry yeast, bread flour, garlic salt
Course: Appetizer/Starter