Cider Slow-Cooked Apples
Courtesy of the French Pastry School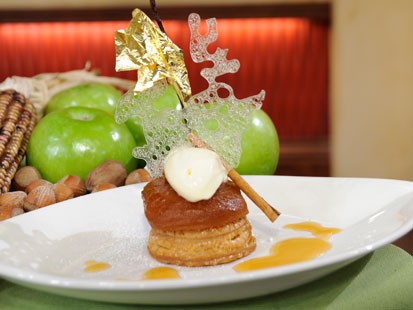 From the kitchen of Jacquy Pfeiffer
Ingredients
26.5 oz freshly made organic Braeburn apple juice (juice of 8 apples. See method below.)
26.5 oz organic apple cider
1 1/2 tbsp freshly squeezed organic lemon juice
17.5 oz granulated sugar
1 1/2 tbsp Tahitian vanilla bean
1/2 tsp sea salt
6 organic Braeburn apples
Green apple chips
1 green apple
5 oz granulated sugar
3.5 oz water
1 1/2 tbsp freshly squeezed organic lemon juice
Cooking Directions
Peel the Braeburn apples. Cut the apples in half lengthwise and remove the core. Place each half-apple in a ramekin and cover with cooking juice (See recipe below.) Cover with foil and bake at 350ºF for 1 1/2 hours in a convection oven. After 45 minutes of baking, see if you need to adjust the amount of liquid. Apple halves should be submerged in the cooking juice during baking. Remove the apples from the oven and allow to cool. Once cooled, flip the ramekin over on a sheet pan with a wire rack, cover in plastic wrap and let drip overnight in a refrigerator.
Run the eight Braeburn apples through a juicer extractor; scale the amount needed for the recipe and add the lemon juice, cider and reserve. On medium heat, cook the sugar to a light brown color or caramel stage and deglaze with the Braeburn apple juice. Add the vanilla and sea salt.
Bring the sugar, water and lemon juice to a boil. Let cool for two minutes and add the thinly slices of green apple.
Cut the green apple in very thin slices using a mandolin or a sharp knife. Place the sliced apples in a shallow pan and pour the hot syrup over them. Let sit for about three minutes. Remove the apple slices from the syrup and place them on a silicon mat or parchment paper lined sheet pan and bake at 220ºF for approximately 30 minutes.
Store the dried chips in an airtight container. Mix 1 pinch of cinnamon with 1 cup of creme fraiche. If you cannot find creme fraiche, it can be replaced with a scoop of ice cream.
Strain the leftover cooking juice and cook until it thickens. (Add a small amount of cornstarch if needed.)
Using prepared puff pastry sheets, cut out disks of puff pastry to 2 1/2 inches, place on a parchment lined sheet pan. Bake in a 325ºF oven for 45 minutes. Turn on the broiler and dust the puff pastry disks with powdered sugar. Bake them for about 60 seconds until the sugar caramelizes.
Let cool on a wire rack. Place a disk of puff pastry in the center of the plate. Top with a slow-cooked apple. Sprinkle some toasted crushed hazelnuts on it. Place a small amount of cinnamon flavored creme fraiche. Decorate with an apple chip.
Makes 12
Recipe Summary
Main Ingredients: braeburn apples, sugar, sea salt
Course: Dessert