Karen's Peanut Butter Pie
Nuttin' Like Pie for Dessert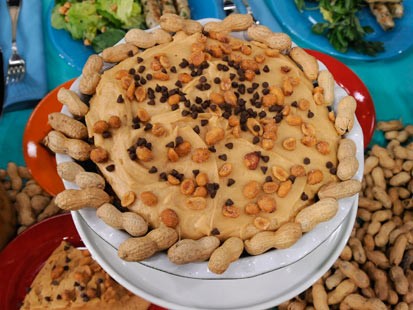 From the kitchen of Melissa Clark
Ingredients
For the crust
8 ounces chocolate wafer cookies (about 30 cookies)
6 tablespoons unsalted butter, melted
2 tablespoons sugar
For the filling
1 cup (8 ounces) smooth peanut butter (preferably natural style), at room temperature
8 ounces cream cheese, at room temperature
1/3 cup sugar
1 1/2 teaspoons vanilla extract
1 cup heavy cream, cold
1/2 cup mini chocolate chips or chopped honey-roasted peanuts, for garnishing
Cooking Directions
Preheat the oven to 350°F and generously butter a 9-inch pie pan.
To make the crust, crush the cookies into crumbs using a food processor, or place them in a plastic bag and roll over them with a rolling pin until crumbled. Mix the cookie crumbs with the butter and sugar until thoroughly combined. Press the mixture into the prepared pie pan, going up the sides as far as possible. Bake until the crust is firm, 8 to 10 minutes. Cool on a wire rack.
To make the filling, using an electric mixer, cream together the peanut butter, cream cheese, sugar, and vanilla. In a separate bowl, whip the cream until soft peaks form. Using a spatula, fold the cream into the peanut butter mixture until completely combined. Scrape the filling into the cooled crust and smooth with the spatula. Sprinkle mini chocolate chips or chopped honey-roasted peanuts or both, if desired, on top. Refrigerate for at least 20 minutes and up to overnight before serving.
* From "In the Kitchen With a Good Appetite" by Melissa Clark.
Recipe Summary
Main Ingredients: chocolate wafer cookies, peanut butter, chocolate chips, honey-roasted peanuts
Course: Dessert