Saltimbocca
A Recipe for Pork, Chicken or Veal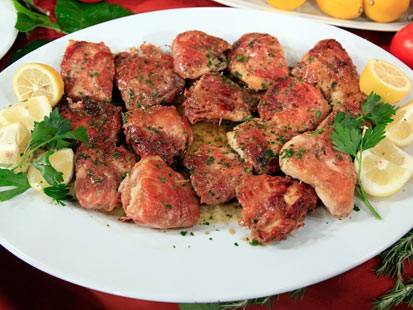 From the kitchen of Mario Batali
|
CLICK HERE to check out a preview of the mouth-watering "Mario Batali Cooks!" iPhone application.
Ingredients
12 veal, chicken or pork cutlets (about 3 ounces each, pounded to about 1/8-inch thick)
24 fresh sage leaves
12 slices prosciutto di Parma
Flour for dusting
3 tablespoons extra-virgin olive oil
1/2 cup dry white wine
1 lemon, halved, seeds removed
4 tablespoons unsalted butter
3 tablespoons chopped parsley
Kosher salt, to taste
Freshly ground black pepper, to taste
Toothpicks
Cooking Directions
Take the pounded cutlets and season with salt. Place 2 sage leaves on each cutlet. Lay out the slices of prosciutto side by side. Lay 1 cutlet on each slice of prosciutto sliding it to one side and leaving half of the prosciutto uncovered. Fold the prosciutto over the cutlet to form a sandwich, with the meat inside the prosciutto. Secure with toothpicks.
Have flour in a shallow baking dish or plate. Dredge cutlet packets lightly in flour. In a 12- to 14-inch sauté pan, heat extra-virgin olive oil over high heat until just smoking. Add cutlets to pan. Do this in batches if they don't all fit in the pan. Better not to crowd them or they will steam. Season cutlets with freshly ground pepper on exposed side.
Cook the cutlets 75 percent on the first side and a golden brown crust has formed on the bottom of the cutlet. Flip the cutlets over and cook for a minute and a half on the second side. Cutlets should be fully cooked through.
Drain browning oil out. (If cooking in batches, put the cooked cutlets on a plate and set aside. Add more extra-virgin olive oil and continue to cook the remaining cutlets in the same way ending with draining the browning oil out of the pan. Add all of the cutlets back into the pan and proceed to make the sauce.)
Pour the wine into the pan and squeeze juice of 1/2 lemon. Add butter and swirl. Season the sauce with salt.
Transfer cutlets to a platter. Stir chopped parsley into the sauce. Pour sauce over the cutlets and serve immediately.
Food styled by Karen Pickus
Other Recipes That You Might Like