Sauteed Olives
A Crusty Bread Complement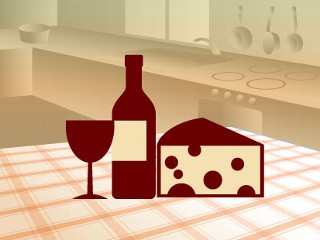 From the kitchen of Mario Batali
|
CLICK HERE to check out a preview of the mouth-watering "Mario Batali Cooks!" iPhone application.
Ingredients
1/4 cup extra-virgin olive oil
2 cloves garlic, chopped
8 ounces small black brine-cured olives, such as Gaeta, rinsed and patted dry
1 cup Basic Tomato Sauce
Cooking Directions
In a 10- to 12-inch saute pan, heat the olive oil. Add the garlic and cook, stirring, until golden, about 2 minutes. Add the olives with a pinch of red chile flakes and freshly cracked pepper. Cook for 3 minutes, or until warmed through.
Add the tomato sauce, bring to a simmer and cook for 1 minute at a simmer. Alternately, for a different texture where the olives fall away from the pits and become softer, cook them for 20-30 minutes. Either way, serve it with crusty bread.
Food styled by Karen Pickus
Other Recipes That You Might Like