Paprika Rubbed Roast Turkey Breast
Recipe Courtesy Ellie Krieger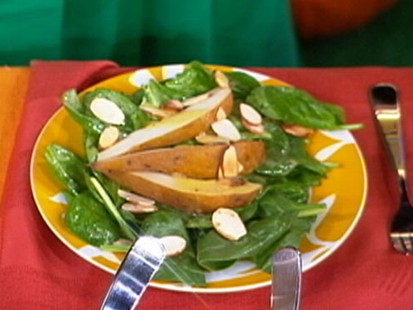 Healthy foods that could help ease rheumatoid arthritis pain.
From the kitchen of Ellie Krieger
For more information and recipes for people living with rheumatoid arthritis, visit NewWayRA.com
Ingredients
1/2 boneless turkey breast, (about 2 pounds), skin removed
2 teaspoons olive oil
1 teaspoon paprika
1/2 teaspoon garlic powder
1/2 teaspoon salt
1/4 teaspoon freshly ground black pepper
Cooking Directions
Preheat the oven to 375 degrees.
Rinse the turkey breast, pat dry and put into a 9x11 inch baking dish.
In a small bowl combine the oil, paprika garlic powder, salt and pepper and rub the mixture into the turkey breast.
Cook until the juices run clear when pierced with fork and a thermometer inserted into thickest part of turkey registers 170 degrees, about 40 minutes.
Let rest, covered with foil, for 10 minutes before slicing into 1/4 inch slices.
Recipe Summary
Main Ingredients: turkey breast, paprika, garlic powder, salt, black pepper, olive oil
Course: Dinner, Main Course
More Info: Kid Friendly