Spinach, Pear and Sliced Almond Salad
Recipe Courtesy Ellie Krieger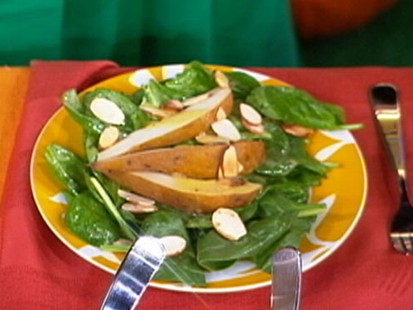 Healthy foods that could help ease rheumatoid arthritis pain.
From the kitchen of Ellie Krieger
For more information and recipes for people living with rheumatoid arthritis, visit NewWayRA.com
Ingredients
2 tablespoons olive oil
1 tablespoon cider vinegar
1 teaspoon Dijon mustard
1/2 teaspoon dried tarragon
1/4 teaspoon salt
1/8 teaspoon freshly ground black pepper
5 ounces baby spinach leaves (about 5 cups lightly packed)
1 firm ripe pear, cored and sliced
1/3 cup sliced almonds, toasted in a dry skillet over a medium high flame until fragrant, about 2 minutes
Cooking Directions
In a large bowl, whisk together the oil, vinegar, mustard, tarragon, salt and pepper.
Add the spinach leaves and toss to coat.
Divide the spinach among 4 serving plates.
Place a quarter of the pear slices and sliced almonds on top of each salad.
Recipe Summary
Main Ingredients: spinach, pear, almonds, cider vinegar, dijon mustard
Course: Dinner, Lunch, Salad, Side Dish, Appetizer/Starter
More Info: Kid Friendly