Cajun Cornbread Stuffing with Andouille Sausage
Aureole Chef Chris Lee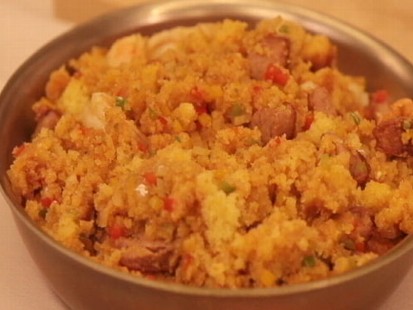 Executive chef Christopher Lee makes an original stuffing with Tanya Steel.
From the kitchen of Chris Lee
|
Ingredients
For the Stuffing:
2 cup of andouille sausage cut into half moons
10 pc's shrimp peeled and de-veined (size 16/20, head off preferably)
1 cup green pepper, small dice
1 cup red pepper, small dice
1 cup yellow pepper, small dice
½ cup fennel, small dice
1 cup spanish onion, small dice
2 garlic cloves, minced
½ cup pickled jalapeno's, minced
1 tea chile powder
1 tea smoked paprika powder
1 tea sweet paprika powder
½ tea cayenne pepper
1 tea file powder (ground sassafras)
1 cup chicken stock
2 tb sweet butter
2 qts corn bread, ripped in large chunks
TT salt
Cooking Directions
Heat a large pot over high heat. When hot, add 2 ounces of cooking oil and sauté the andouille until golden brown. Then add the green peppers, yellow peppers, red peppers, garlic, onions, fennel, and shrimp.
Sauté for 1 minute, then add the spices, jalapenos, chicken stock, butter, and corn bread. Mix well and place in a baking dish.
Bake for 20 minutes and serve.
Recipe Summary
Main Ingredients: garlic, onions, fennel, shrimp, cornbread, herbs, butter, sausage, chicken stock
Course: Brunch, Casserole, Appetizer/Starter, Side Dish
More Info: Kids Friendly
Other Recipes That You Might Like