Sauteed Turkey Breast, Braised Leg and Stock
Aureole Chef Chris Lee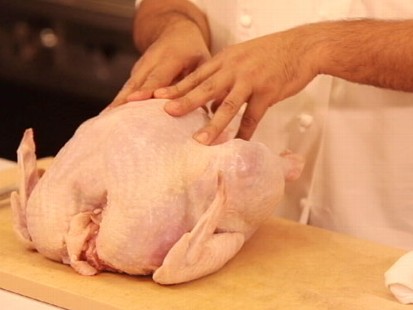 Executive chef Christopher Lee breaks down the bird with Tanya Steel.
From the kitchen of Chris Lee
Ingredients
For the Turkey and Stock
12 to 15 pound turkey
2 pc onions, peeled and cut into large dice
2 pc carrots, peeled and cut into large dice
3 ribs of celery, wash well and cut into large dice
1 head garlic, cut the bulb in ½
1 bunch thyme
5 sprigs thyme
4 bay leaves
2 gallons chicken stock
2 gallons of water
3 tb butter
3 oz flour
Cooking Directions
1) Cleaning the Turkey - Remove the breast from the chest cavity and remove the legs. Save the cavity.
2) Making the Stock: Place the cavity, wings, and neck into a large pot with the water, ½ the vegetables, and ½ the herbs. Bring to a simmer and cook for 2 ½ hours. Strain and reserve. This should be done the day before serving.
3) Making the gravy: For the roux: melt the butter in a pan, add the flour, and mix well. Hold at room temp. Reduce the stock to 6 cups and whisk in the roux. Allow the gravy to simmer for 20 minutes before serving, but whisk every few minutes to prevent from burning.
4) Braising the Leg: In a medium to large pot start to brown off the legs. When the legs are golden brown add the other ½ of the vegetables, the other ½ of the herbs, and chicken stock. Braise at a low simmer for 3 hours or until the leg meat falls of the bone. When cooked, remove the legs and shred the meat. Make sure there are no bones. Reserve until serving with the strained braising liquid. This should be done the day before serving.
5) Cooking the breast: On the day of serving, heat a large frying pan over high heat and preset an oven at 400 degrees F. Season the turkey with salt and pepper (just like you would season a chicken breast right before pan searing). Put 2 ounces of cooking oil in the pan and place the turkey breast skin down in the pan. When the skin is golden brown flip it over and place in the oven (in the pan if it will take high temps, otherwise transfer to a baking dish). Depending on the size of the breast, a 10 to 12 ounce breast will take 12 to 15 minutes in the oven. Add 1 minute per each ounce heavier. When cooked, allow the breast to rest for 4 minutes before slicing and serving.
Recipe Summary
Main Ingredients: turkey, giblets, flour, chicken stock, herbs, carrots, celery
Course: Lunch, Brunch, Dinner, Main Course