Chef's Omelet
A Meat Lover's Perfect Breakfast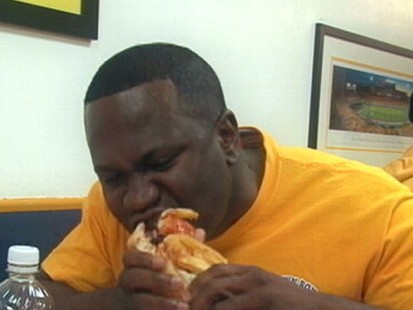 Ron Claiborne goes across the U.S. for the best college food.
From the kitchen of Camellia Grill
Leave the French Quarter and experience a real local favorites at Camellia Grill. Their omlettes feature all kinds of meat and vegetables and are sure to please even the pickiest eaters.
Ingredients
3 eggs
¼ cup ham, chopped
¼ cup, turkey, chopped
¼ cup bacon, crumbled
¼ cup onions, diced
¼ hash brown potatoes
1 slice Swiss cheese
1 slice yellow American cheese
1 can of chili
Cooking Directions
Whip eggs in a blender until they appear white and fluffy or foamy. Place ham, turkey, bacon, onions and potatoes together on griddle or in large skillet to cook. Pour the eggs on top of meat, onions and potato mixture. Place each slice of cheese over top of the eggs. When the eggs start to get tiny bubbles in it, roll the whole thing over until it looks like a pillow. Let set for a few minutes on the grill or in the pan until the eggs are cooked. Take off grill, pour chili on top and serve.
Recipe Summary
Main Ingredients: eggs, turkey, ham, onions, bacon, hash browns, american cheese
Course: Brunch, Breakfast