Brent Nelson Sandwich
A Smoky Cheesy Sausage Sandwich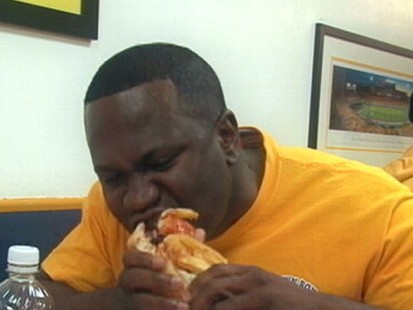 Ron Claiborne goes across the U.S. for the best college food.
From the kitchen of Ol Stuga
|
This local favorite built its reputation on making delicious specialty sandwiches. Now you can try one at home.
Ingredients
1 White Submarine Bun
1Polish Sausage
2 Slices Smoky Sharp Cheese
2 Slices Hot Pepper Cheese (not Pepper Jack!!)
Thinly sliced Onions
Kansas City Style Bar-B-Q Sauce
Cooking Directions
Cut the sausage to match the bun's length and then in half lengthwise. Take care to not cut it all the way through, so that it is still in one piece. Put a notch the top of the sausage every 1/4 inch of so, so that it doesn't curl up when grilled (and it is easier to bite off without the whole sausage trying to slide out of the bun)
Lightly grill sausage, just enough to give it a little brown for taste. Split Sub bun, putting Bar-B-Q sauce as liked on each side (I like alot). Place grilled sausace on the bun, then add the smoky sharp cheese, hot pepper cheese and onions. Heat in microwave for 55 to 60 seconds. Consume!
Other Recipes That You Might Like