Angela Allender's Pumpkin Roll
Recipe Courtesy Angela Allender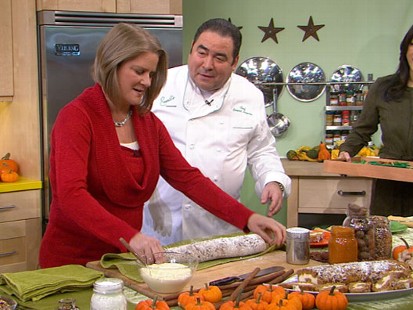 "12 Days of Cooking Challenge" winner shows Emeril her way around the kitchen.
From the kitchen of Angela Allender
Check out Angi Allender's family favorite, a delicious pumpking roll with cream cheese frosting. This perfect blend of spices and frosting will have you coming back for a second or maybe third slice.
Ingredients
For the Cake
3 eggs
1 cup sugar
2/3 cup pumpkin puree
1 tsp. lemon juice
3/4 cup flour
1 tsp. baking powder
2 tsp. ground cinnamon
1 tsp. ginger
1/2 tsp. ground nutmeg
1/2 tsp. salt
1 cup chopped pecans (to sprinkle over cake batter before baking)
For the Filling
1 cup confectioner's sugar
4 tablespoons butter, softened
8oz. cream cheese, softened
1/2 tsp. vanilla extract
Cooking Directions
Preheat oven to 375 degrees F.
In a large bowl, beat eggs for five minutes. Gradually add sugar. Stir in pumpkin and lemon juice. Fold in dry ingredients and spices. Put in greased and floured jelly roll or sheet pan and sprinkle with chopped pecans over the top.
Bake for 15 minutes.
While cake bakes, combine confectioner's sugar, butter, cream cheese, and vanilla in a large bowl. Mix until smooth.
When cake has finished baking, turn out onto a clean towel which has been dusted with confectioner's sugar. Quickly roll up and reserve until cooled.
When cake is completely cooled, unroll and spread cream cheese mixture over cake. Re-roll the entire thing, and sprinkle with additional confectioner's sugar.
This recipe was styled by chef Karen Pickus for Good Morning America.
Recipe Summary
Main Ingredients: sugar, pumpkin, cinnamon, nutmeg, ginger, butter, vanilla, cream cheese
Course: Dessert, Party Platter, Snack