Bianna Golodryga's Favorite Chocolate Pie
Recipe Courtesy Bianna Golodryga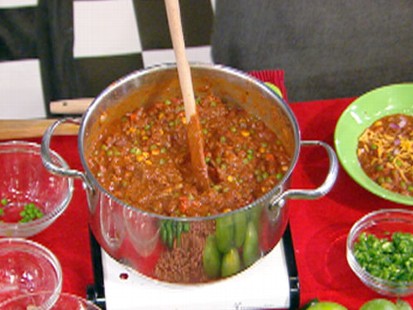 Ron Claiborne shares one of his favorite holiday recipes.
From the kitchen of Bianna Golodryga
Are you looking for a chocolate fix? Bianna's pie is just the right combination of rich chocolate, crispy crust and crunchy toasted nuts.
Ingredients
1 graham cracker pie crust
1 8oz package light Philadelphia cream cheese
¾ cup of sugar
1/8th teaspoon vanilla powder
4 tablespoons Hershey's cocoa
2 1/2 cartons (8 oz) Kraft light cool whip
Toasted pecan, almond, or walnut chips
Cooking Directions
In a large bowl, combine cream cheese, sugar, vanilla and cocoa and mix with a hand mixer on medium speed until the mixture is smooth.
Add cool whip and continue mixing until all of cool whip is blended with the filling and the mixture becomes thick. Pour filling into the pie crust. Sprinkle with toasted nuts, if desired.
This recipe was styled by chef Karen Pickus for Good Morning America.
Recipe Summary
Main Ingredients: hershey's chocolate, cream cheese, graham cracker crust, cool whip, nuts
Course: Dessert, Party Platter, Snack