Struffoli
A Spicy and Sweet Dessert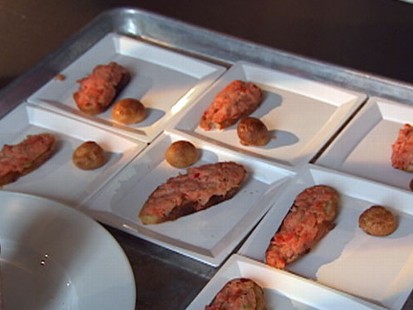 Author Dorie Greenspan invites us to her French table.
From the kitchen of Richard Capizzi
Ingredients
3 eggs
2 cups flour
1/6 pound butter, room temperature, diced
1 1/2 tablespoons baking powder
zest half of one orange
1/8 teaspoon cinnamon
pinch cloves
pinch star anise
1/2 vanilla bean
1/2 tablespoon Grand Marnier
to taste:
honey
candied chestnuts
candied orange, lemon, apricot
toasted nuts
Cooking Directions
In a large mixing bowl, combine the flour, baking powder, zest, cinnamon, clove and star anise. Whisk to break up any lumps. Add the butter to the dry ingredients and create a well. Set aside.
In a small bowl, whisk together the eggs, vanilla bean and the Grand Mariner. Pour the egg mixture into the well and slowly combine with the dry ingredients. Do not over-mix. Roll finished dough into a log shape, then tightly wrap in plastic and refridgerate overnight.
Take a 1/8 piece of the dough and roll it into a 1/2 inch-thick log. Cut 1/4 inch pieces using a bench scraper. Store on a lightly floured cookie sheet. Continue this method with the rest of the dough.
Fry at 350 degrees until golden brown.
Once cool, toss with honey, chopped dried fruit and chestnuts. Garnish with preferred toasted nuts.
Recipe Summary
Main Ingredients: eggs, flour, butter, baking powder, orange, cinnamon, cloves, star anise, grand marnier, vanilla bean
Course: Dessert