Craig Strong's Dry Fruit and Nut Bread With Pears, Caramelized Onions and Blue Cheese
Perfect Savory Treat For Your Dinner Party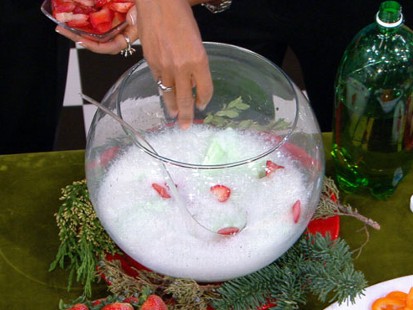 "GMA's" Robin Roberts whips up a family favorite.
From the kitchen of Craig Strong
Delight your guest with this lovely nut breat.
Ingredients
¾ cup all purpose flour
¾ cup powder sugar
¾ cup melted butter
¾ cup egg whites
1 cup dry apricots
1 cup sliced almonds
1 orange zest
1 white onion peeled and
julliened
1 tablespoon vegetable oil
1 pear cored and sliced thinly
2 cups blue cheese crumbles
Cooking Directions
Sauté onion in oil for 10 minutes on medium heat. Drain on paper towel.
Mix flour, sugar and butter. Stir in egg whites. Combine apricots, almonds and zest to mixture.
Line a cookie sheet with parchment paper and spray with non stick spray. Spread dough onto parchment. Spread onions onto dough, place slices of pear on top.
Bake in oven 350 degrees for 15 minutes.
Sprinkle blue cheese on top.
Place back in oven for 3 minutes to partially melt blue cheese.
Cut into squares.
This recipe was styled by chef Karen Pickus for Good Morning America.
Recipe Summary
Main Ingredients: flour, sugar, butter, egg whites, apricots, almonds, orange zest, white onion, vegetable oil, pear, blue cheese
Course: Dinner