Smoked Salmon on Toast With Dill and Caviar
Try Craig Strong's Dish at Your Holiday Party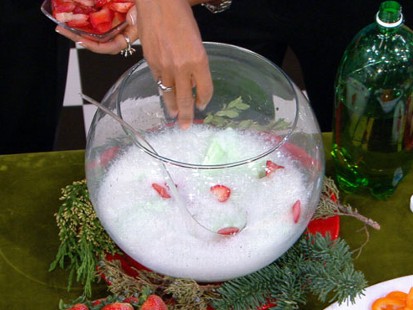 "GMA's" Robin Roberts whips up a family favorite.
From the kitchen of Craig Strong
Get fancy with your holiday appetizers this year.
Ingredients
4 slices smoked salmon
1 cup cream cheese
3 tablespoons chives, finely
chopped
12 sprigs chives
1 ounce caviar
12 1-inch brioche rounds,
Toasted
1 lemon, zested and juiced
Cooking Directions
In mixer with paddle, beat cream cheese, lemon zest and juice until smooth and light. Fold in chives, spread onto smoked salmon slices and roll into pinwheel shape. Roll in plastic wrap and refrigerate for 2 hours. Slice and place onto toast.
Garnish top with caviar and chive spear.
This recipe was styled by chef Karen Pickus for Good Morning America.
Recipe Summary
Main Ingredients: caviar, smoked salmon, cream cheese, chives, brioche rounds, lemon juice
Course: Appetizer/Starter