Chicken Queso Burgers
Fill up on this simple and healthy burger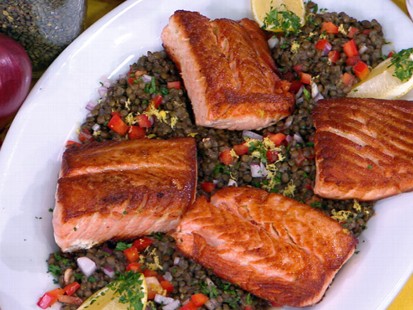 The chef shakes up ho-hum meals with beneficial twists.
From the kitchen of Emeril Lagasse
If you're looking for a simple dinnertime option look no further. This burger packs a lot flavor without a lot of calories.
Ingredients
2 eggs, lightly beaten
8 ounces cheddar cheese, grated (about 2 cups)
One 4-ounce can (about 1/3 cup) minced green chiles, drained
2 tablespoons chopped fresh oregano
3 teaspoons chili powder
1 teaspoon ground cumin
2 1/2 teaspoons salt
2 pounds ground chicken thigh meat
3/4 cup fine unseasoned dry breadcrumbs
1 1/2 cups minced onions
1 cup olive oil
8 hamburger buns
Lettuce, tomato, and mayonnaise, for garnishing burgers (optional)
Cooking Directions
In a large bowl, combine the eggs, cheese, chiles, oregano, 1 1 /2 teaspoons of the chili powder, the cumin, and 2 teaspoons of the salt. Add the ground chicken and the breadcrumbs, and mix until well blended. Divide the mixture into 8 portions, and shape each portion into a 1-inch-thick patty. Lay the patties on a tray, cover with plastic wrap, and refrigerate until ready to cook.
Combine the onions, 3 /4 cup of the olive oil, remaining 1 1 /2 teaspoons chili powder, and remaining 1 /2 teaspoon salt in a small bowl. Divide the onion mixture evenly among the cut sides of the hamburger buns, and spread it out with a brush to coat.
Heat a 12-inch nonstick skillet over medium-high heat. In batches, toast the buns, coated sides down, in the skillet until the onions cook slightly and stick to the buns and the bread is lightly toasted, 2 to 3 minutes. Set the buns aside and wipe the skillet clean.
In the same nonstick skillet, heat 2 tablespoons of the remaining olive oil over medium heat. Add 4 patties and cook until an instant-read thermometer registers 165°F when inserted into the center of a patty, about 4 minutes per side. Set the patties aside; keep warm. Repeat with the remaining 2 tablespoons olive oil and 4 patties. Place the patties between the toasted buns and serve immediately, with lettuce, tomato, and mayonnaise, if desired.
Recipe courtesy "Emeril 20-40-60: Fresh Food Fast" by Emeril Lagasse, Harper Studio Publishers, 2009, copyright MSLO, Inc., all rights reserved
This recipe was styled by chef Karen Pickus for Good Morning America.
Recipe Summary
Main Ingredients: eggs, cheese, chilies, oregano, chilli powder, cumin, salt chicken meat, onions, breadcrumbs
Course: Dinner, Main Course