A Lighter Caesar Salad
Great Caesar Salad Taste, Less Calories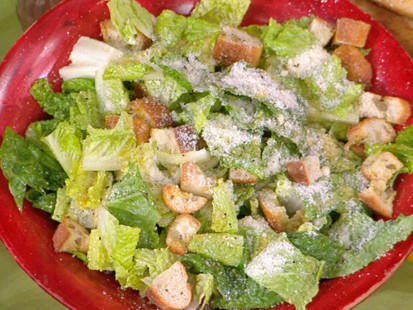 The famous chef has diet-friendly versions of all your favorite Italian dishes.
From the kitchen of Emeril Lagasse
Emeril introduces a lighter version of a classic salad.
Ingredients
For the Salad
1 teaspoon Dijon mustard
2 tablespoons fresh squeezed lemon juice
½ teaspoon minced garlic
½ teaspoon worcestershire sauce
1 anchovy fillet, finely chopped
1/8 teaspoon salt
1/8 teaspoon ground black pepper
1/3 cup olive oil
1 pound romaine hearts, washed, spun dry and torn into 2-inch pieces
¼ cup finely grated parmesan cheese
1 recipe Homemade Croutons, recipe follows
For the Croutons:
1 4 ounce baguette roll, diced into ¾-inch cubes
2 tablespoons olive oil
Salt and pepper to taste
Cooking Directions
For Salad:
In a medium bowl, combine the mustard, lemon juice, garlic, worcestershire sauce, anchovy, salt and pepper and whisk well. While whisking, slowly drizzle the olive oil into the bowl until completely incorporated.
Place the lettuce in a large bowl with the parmesan cheese and the croutons. Drizzle the vinaigrette over the salad and toss well to combine. Serve on chilled salad plates.
For Croutons:
Preheat the oven to 375°F.
Place all the ingredients in a medium bowl and toss well to combine. Lay the bread on a sheet pan and bake in the oven until crisp, about 15 minutes.
This recipe was styled by chef Karen Pickus for Good Morning America.
Recipe Summary
Main Ingredients: dijon mustard, garlic, lemon juice, worcestershire sauce, anchovy fillet, olive oil, romaine
Course: Vegetable, Salad