Butternut Squash, Vegetable and Chickpea Tagine
Try This Seasonal and Delicious Vegetable Dish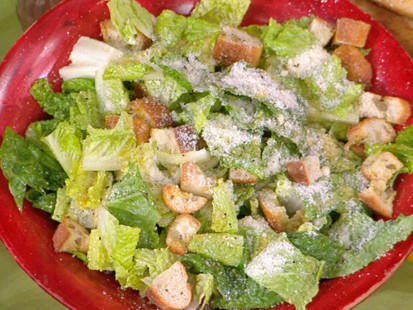 The famous chef has diet-friendly versions of all your favorite Italian dishes.
From the kitchen of Emeril Lagasse
Looking for a vegetable dish for dinner. Try Emeril's seasonal recipe and spice up your dinner.
Ingredients
2 tablespoons olive oil, plus 1 tablespoon
1 ½ cups small diced onion
1 cup small diced carrot
1 teaspoon ground turmeric
1 teaspoon ground cinnamon
1 teaspoon ground coriander
½ teaspoon crushed red pepper
3 cups medium diced butternut squash
1 ½ cups medium diced parsnip
1 tablespoon minced garlic
2 teaspoons kosher salt, plus 1 teaspoon
½ cup golden raisins
½ cup, about ¼ lb, small diced dried apricots
4 cups chicken broth, divided, plus more if needed
4 threads saffron
4 cilantro sprigs tied together with twine
2 14.5-ounce cans chickpeas, drained
¼ cup chopped parsley, divided
½ cup small diced red bell pepper
½ teaspoon black pepper
Zest from one lemon
10 ounces couscous
2 tablespoons freshly squeezed lemon juice
1 tablespoon extra virgin olive oil
Cooking Directions
Heat 2 tablespoons olive oil in a tagine or Dutch oven over medium-high heat. Add onion, carrots, turmeric, cinnamon, coriander and crushed red pepper and cook until onions are translucent, about 3 minutes. Add butternut squash and parsnips to the pan and cook 7 minutes longer, stirring occasionally, then add garlic, 2 teaspoons kosher salt, raisins, dried apricots, 2 cups chicken broth, saffron and cilantro sprigs. Bring mixture to a boil, then reduce the heat to medium-low and cook, covered, for 15 minutes. If using a Dutch oven instead of a tagine, only partially cover to allow steam to escape. Add chickpeas and cook for thirty minutes. Remove from heat and sprinkle 1/8 cup chopped parsley over the top.
In a 2-quart saucepot or larger, heat remaining 1 tablespoon of olive oil over medium-high heat. Add red bell pepper, 1 teaspoon kosher salt and black pepper and cook until soft, 2 minutes. Add remaining 2 cups chicken broth and the lemon zest and bring to a boil. Add couscous, cover, and remove from heat. Allow couscous to steam for 5 minutes. Add lemon juice, extra virgin olive oil and 1/8 cup chopped parsley; stir to combine. Serve with the Butternut Squash, Vegetable and Chickpea Tagine.
This recipe was styled by chef Karen Pickus for Good Morning America.
Recipe Summary
Main Ingredients: olive oil, onion, carrot, tumeric, cinnamon, coriander, red pepper, butternut squash, parsnip, garlic, raisons, apricots, chicken broth, saffron, cilantro, chickpea, parsley, red bell pepper, couscous
Course: Vegetable, Appetizer/Starter