Neapolitan Lasagne
Fill Up on This Tasty Italian Dish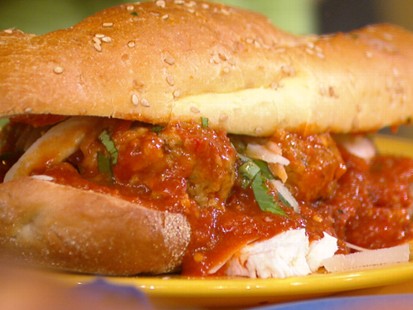 The world-famous chef puts a gourmet twist on typical game-day grub.
From the kitchen of Mario Batali
|
The Neapolitans are much more dramatic than the Bolognese, a characteristic that is evident right down to their lasagna. The ragu napoletano takes some time, but you can easily squeeze at least two meals out it, since you use just the sauce and sausage for the lasagna.
Ingredients
2 ½ pounds Basic Pasta Dough
2 tablespoons extra-virgin olive oil
Ragu Napoletano, sausages thinly sliced, meats reserved for another use 3 cups ricotta
Polpettine, cut in half
1 cup freshly grated Parmigiano-Reggiano
1 pound fresh mozzarella, shredded
Cooking Directions
Divide the pasta dough into 8 portions. Roll each one through the thinnest setting on a pasta machine and lay the sheets on a lightly floured work surface to dry for 10 minutes. Cut the pasta into 10-by-5-inch strips and cover with a damp kitchen towel.
Bring 6 quarts of water to a boil in a large pot, and add 2 tablespoons salt. Set up an ice bath next to the stovetop, and add the oil. Cook the noodles, 6 to 7 at a time. Transfer to the ice bath to cool, then lay out on clean kitchen towels to drain.
Preheat the oven to 350°F.
Assemble the lasagna in a 10-by-20-inch lasagna pan (or use two 9-by-12-inch pans): Spread ½ cup ragu over the bottom of the dish, then top with a layer of pasta, a layer of ricotta, a layer of polpettine and sausage, and a layer of Parmigiano and mozzarella. Continue until you have at least 3 layers, finishing with cheese.
Bake for 1 hour and 15 minutes, or until the edges are bubbling. Let rest for 15 minutes before serving.
Top the meatballs with parsley leaves, freshly grated pecorino and a drizzle of extra-virgin olive oil.
This recipe was styled by chef Karen Pickus for Good Morning America.
Other Recipes That You Might Like