Mini Pumpkin Muffins
One Bit of These Won't Be Enough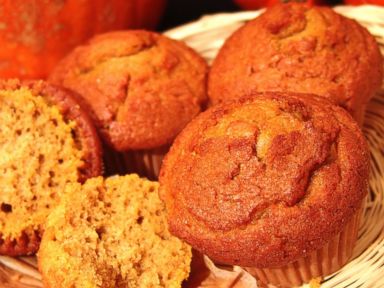 From the kitchen of Mindy Kobrin
|
These delicious mini muffins are so delicious they're almost addictive. Be prepared to eat more than one.
Ingredients
¾ cup vegetable oil
1½ cups whole-wheat flour, spooned and leveled
1½ cups all-purpose flour
2 tsp baking powder
1 tbs pumpkin pie spice
½ tsp baking soda
2 cups pumpkin purée
1 cup plain low-fat yogurt
3 large eggs, at room temperature
1 cup sugar
1½ cups walnuts, coarsely chopped
Cooking Directions
Preheat oven to 350°F.
Brush 24 mini-muffin tins with vegetable oil or spray with Pam; set aside.
In a medium bowl, whisk flours, baking powder, pumpkin pie spice, and baking soda; set aside.
In a large bowl, whisk oil, pumpkin purée, yogurt, eggs, and 1 cup sugar to combine; add 1 cup walnuts and reserved dry ingredients. Mix just until moistened (do not overmix).
Divide evenly and spoon batter into mini-muffin tins; sprinkle tops with remaining walnuts and sugar.
Bake until a toothpick inserted in the center of a muffin comes out clean, 35 to 40 minutes. Cool in pan for 5 minutes.
Other Recipes That You Might Like