French Toast Cups with Fresh Fruit and Cream
A Sweet Treat That Will Satisfy All Day Long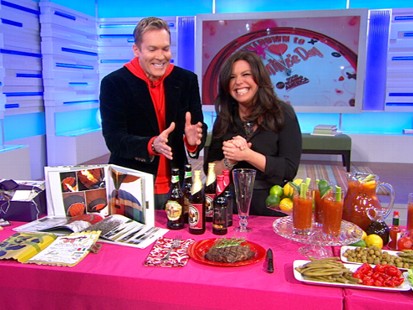 The famous chef shares romantic traditions and gift ideas for Valentine's Day.
From the kitchen of Rachael Ray
|
Rachael Ray shares one of her favorite Valentine's Day dishes that she makes every year to celebrate. Try Valentine's Day her way.
Ingredients
Nonstick cooking spray
3 eggs
1 tablespoon milk (a splash)
2 teaspoons cinnamon (about half a palmful)
A dash of vanilla extract (optional)
A dash of fresh nutmeg (optional)
6 slices whole grain sandwich bread
1 pint fresh berries, such as strawberries, blueberries, blackberries or raspberries
1 cup regular or low fat Greek yogurt, plain or vanilla flavor
Maple syrup or honey, for drizzling
Cooking Directions
Pre-heat the oven to 375ºF.
Spray the inside of each cup of a 6-cup muffin tin with nonstick cooking spray and set aside.
In a medium size mixing bowl, whisk together the eggs, milk, cinnamon, vanilla and nutmeg.
Cut slits in each slice of bread from the middle of the slice to each corner – this will make it easier to put the slices in the muffin cups without tearing.
Dip each slice of bread in the egg mixture, then lightly press them into the cups of the muffin tin, overlapping the pieces where you cut the slits to make them fit into the cup without tearing.
Bake the French toast cups for 12-14 minutes, until they're light golden brown.
Allow the cups to cool slightly in the muffin tin before removing them. To serve, arrange the cups on a platter and fill each one with fresh fruit and top with yogurt. Drizzle with maple syrup or honey, if desired.
This recipe was styled by chef Karen Pickus for Good Morning America.
Other Recipes That You Might Like