Vanilla Frosting
Frosting Made Just Right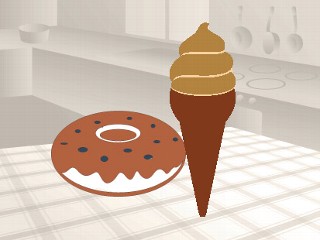 From the kitchen of Buddy Valastro
For a creamier frosting, use milk instead of water, but note that you must refrigerate
it, as well as any cakes filled or iced with it. Let it come to room temperature
before using, and whip briefly by hand to refresh it.
Ingredients
21/2 cups (5 sticks) unsalted butter, softened at room temperature
5 cups powdered (10x) sugar
1 tablespoon pure vanilla extract
1/4 teaspoon fine sea salt
3 tablespoons lukewarm water
Cooking Directions
Put the butter in the bowl of a stand mixer fitted with the paddle attachment
and mix on low speed until butter is smooth with no lumps. With
the motor running, add the sugar, 1 cup at a time, only adding the next
cup after the first addition has been integrated into the mixture.
Stop the machine and add the vanilla and salt. Paddle on low-medium
speed until completely smooth, approximately 2 minutes. Add the water
and continue to mix until light and fluffy, 2 to 3 minutes.
The frosting can be kept in an airtight container at room temperature for
up to 2 days.
This recipe was styled by chef Karen Pickus for Good Morning America.
Recipe Summary
Main Ingredients: butter, powdered sugar, vanilla, extract, sea salt, water
Course: Dessert