Penne with Sausage and Escarole
Spice Up Your Dinner With This Pasta Dish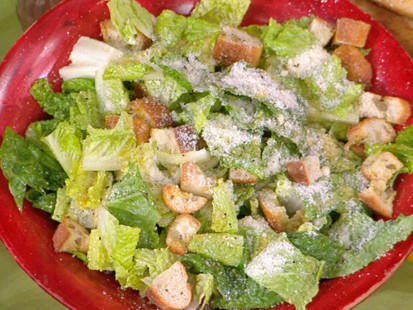 The famous chef has diet-friendly versions of all your favorite Italian dishes.
From the kitchen of Emeril Lagasse
Looking for a pasta dish for dinner. Try Emeril's seasonal recipe and spice up your dinner.
Ingredients
1 pound penne pasta
1 teaspoon olive oil
2 medium onions, cut into small dice (about 2 cups)
1 red bell pepper, cut into medium dice (about 1 cup)
1/2 teaspoon salt, plus more for the pasta water
1/2 teaspoon freshly ground black pepper
11/2 pounds sweet Italian sausage, casings removed (or bulk sausage)
2 teaspoons minced garlic
1 bunch escarole or mustard greens, rinsed, stemmed, and torn into bite-size pieces (about 8 cups)
1/2 cup grated Parmigiano-Reggiano cheese
1/4 teaspoon crushed red pepper
2 tablespoons extra-virgin olive oil
Cooking Directions
Bring a large pot of salted water to a boil. Add the penne and cook until just tender, about 11 minutes. Drain the pasta in a colander, reserving 1 cup of the cooking water, and set aside.
While the water is heating and the pasta is cooking, heat the olive oil in a 14-inch sauté pan over medium heat. Add the onions, bell pepper, 1 /2 teaspoon salt, and black pepper, and cook until the vegetables are soft, about 4 minutes. Add the sausage and cook, breaking the pieces up with the back of a wooden spoon, until browned, 6 to 8 minutes. Add the garlic and escarole, and cook for 5 minutes longer.
Add the cooked pasta and the reserved cooking water, and stir gently to combine. Simmer just until everything is heated through, about 2 minutes.
Transfer the mixture to a large serving bowl. Add the cheese and crushed red pepper, and toss to combine. Drizzle with the extra-virgin olive oil, and serve immediately.
Recipe courtesy "Emeril Lagasse, Emeril 20-40-60: Fresh Food Fast" by Emeril Lagasse, Harper Studio Publishers, 2009, copyright MSLO, Inc., all rights reserved
This recipe was styled by chef Karen Pickus for Good Morning America.
Recipe Summary
Main Ingredients: olive oil, onion, carrot, tumeric, cinnamon, coriander, red pepper, butternut squash, parsnip, garlic, raisons, apricots, chicken broth, saffron, cilantro, chickpea, parsley, red bell pepper, couscous
Course: Pasta, Dinner