Vegan Chicken Parmesan
A Delicious Dinner Meat-Free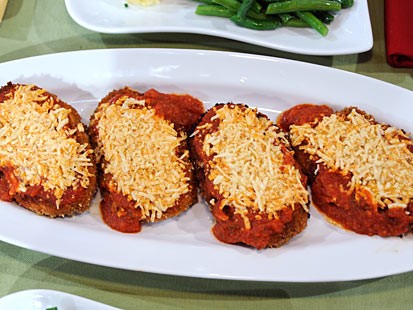 From the kitchen of Karen Pickus, Chef/Food Stylist Good Morning America
|
Are you looking to start a vegan diet? This delicious recipe is the perfect way to start.
Ingredients
¼ cup whole wheat flour
1/8 tsp. salt
1/8 tsp. pepper
3 tsp. Egg Replacer
4 TBS. water
For the bread crumbs:
1 cup finely ground whole wheat bread crumbs
2 TBS. Vegan soy topping, parmesan flavor
1 /2 tsp. dried oregano
½ tsp. Italian seasoning
1/8 tsp. salt
1/8 tsp. pepper
1-10 oz. package (4 ea) "Gardein" Frozen "Chick" thawed
2 cups tomato sauce, jarred or homemade
1 cup "Daiya Mozzerella Style Shreds"
2 TBS. Vegan soy topping, parmesan flavor
¼ cup olive oil
Cooking Directions
Preheat the oven to 400 degrees.
In a small rectangular dish place the flour, salt and pepper. In
another rectangular dish, combine the egg replacer and water.
Combine the ingredients for the breadcrumbs in a third rectangular dish.
Heat the olive oil on medium low heat in a 12 inch skillet.
Dip one "cutlet" on both sides into the flour mixture, shake off any
excess flour. Then dip the floured "cutlet" into the "egg mixture".
Then dip the "cutlet" into the bread crumbs, coat evenly on both
sides, pressing the crumbs with your palm to insure you have an even
coating of the crumbs. Repeat with the remaining 3 "cutlets" Place in
the heated oil. Cook until the crumbs are golden brown, about 2 minutes on each side.
In a small bowl combine the Daiya Mozzerella Style Shreds with vegan
soy parmesan flavored topping. Place the browned cutlets into a 9x13
glass baking dish. Top each cutlet with about a half cup of the
tomato sauce. Sprinkle the "cheese" on top. Place the baking dish into
the preheated oven for 10-15 minutes until cheese melts and the
"cutlets" are hot. Serve Immediately.
This recipe was developed, prepared and styled by chef Karen Pickus for Good Morning America.
Recipe Summary
Main Ingredients: salt, pepper, wheat flour, egg replacer, water, whole wheat break crumbs, vegan soy topping, parmesan flavor, "gardein" frozen "chick" thawed, daiya mozzerella style shreds, vegan soy topping, parmesan flavor, karen pickus
Course: Dinner, Main Course
More Info: Vegetarian, Vegan
Other Recipes That You Might Like