Countdown to Oscars: Wolfgang Puck's Vegetable Paella
Make This Light and Tasty Treat In Your Kitchen!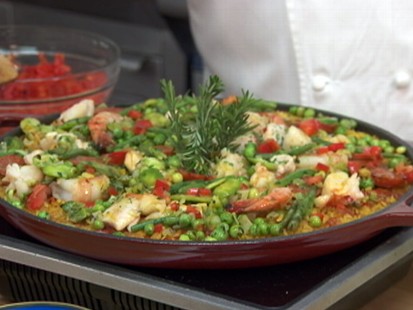 Chef shows you how to cook the paella dish from the Oscar Governors Ball menu.
From the kitchen of Wolfgang Puck
|
Ingredients
Sofrito (makes 1 serving)
Ingredients:
¼ red pepper, small dice
¼ yellow pepper, small dice
1 scallion, whites sliced very thin
1 garlic cloves
¼ red onion
Vegetable Stock (makes 1 serving)
Ingredients:
½ fennel bulb
½ pound corn
2 celery stalks
1 white onion
½ carrot
1 cup of canned plum tomatoes
3 scallions
1 tbs. coriander seeds
1 tbs. fennel seeds
1 tsp. crushed red chili flake
1 tsp. saffron threads
1tsp. granulated garlic
1 tsp. granulated onion
2 tbs. cup Spanish paprika
Paella Topping
Ingredients:
Fava beans
Haricot verts
Diced leeks
English peas
Chopped parsley
Blanch all vegetables in the vegetable stock.
Cooking Directions
For The Sofrito
Place all ingredients into a sauté pan and cook slowly until it has cooked down. It should begin to blend together almost forming a paste.
For The Vegetable Stock
Add enough water to cover all vegetables in the pot and bring to a boil. Simmer for 5 to 7 minutes.
Strain the vegetable stock and add Sofrito to make the rice. Using 2 ounce, long grain rice (Uncle Ben's will do) and 4 ounces of paella stock per single serving, cook for 15 to 17 minutes at 375°F inside the oven. When cooked, let the paella rest for 5 minutes before serving. To finish the dish, cover with the blanched vegetables.
This recipe was styled by chef Karen Pickus for Good Morning America.
Other Recipes That You Might Like