Roasted Mushrooms
Add Bountiful Variety of Mushrooms as simple side dish.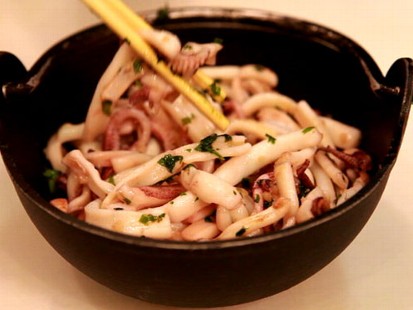 Executive Chef Eric Bromberg and famed Blue Ribbon Sushi Bar & Grill.
From the kitchen of Eric Bromberg
|
Ingredients
2 Lbs of assorted wild mushrooms (we use Hon Shimenji, Maitake, Chantrelle and royal trumpet)
Fresh chives, cut into 1" sticks
picked thyme leaves
picked parsley leaves
perfect roast
blended oil
Cooking Directions
-Take the mushrooms and cut so they are all similar sizes, leaving the smaller ones whole whenever you can
-place about 1 lb in a bowl and add a pinch of thyme leaves, and a small handful of the parsley leaves and chive batons.
-toss with blended oil and perfect roast, and place on a small sheet tray or cookie pan
-bake in a 450 oven for 8 minutes
Other Recipes That You Might Like