Asparagus Tomato Quiche
Feast on This French Delicacy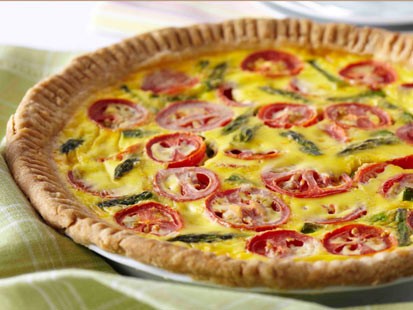 From the kitchen of American Egg Board
|
Treat yourself to this delicious dish.
Ingredients
1 Baked Piecrust (9-inch)
1 cup asparagus pieces (1-inch)
3/4 cup shredded Italian cheese blend (3 oz.)
1 cup cherry tomato slices
6 eggs
1/2 cup milk
1/3 cup sour cream
1/2 tsp. salt
1/4 tsp. white pepper
Cooking Directions
Heat oven to 375 degrees F. Blanch asparagus in boiling water for 1 minute. Drain well. Sprinkle cheese evenly in bottom of pie shell. Top with asparagus and tomatoes in an even layer.
Beat eggs, milk, sour cream, salt and pepper in medium bowl until blended. Carefully pour over filling in pie shell.
Bake in center of 375 degrees F oven until center is almost set but jiggles slightly when dish is gently shaken and knife inserted near center comes out clean, about 40 minutes. Let stand 5 minutes. Cut into wedges.
Nutrition information per serving (1/6 of recipe) :432 calories; 28 g total fat; 10 g saturated fat; 6 g polyunsaturated fat; 10 g monounsaturated fat; 234 mg cholesterol; 603 mg sodium; 28 g carbohydrate; 2 g dietary fiber; 15 g protein; 935.6 IU Vitamin A; 58.6 IU Vitamin D; 102.9 mcg folate; 183.0 mg calcium; 3.0 mg iron; 159.2 mg choline.
This recipe is an excellent source of protein, folate, choline, and a good source Vitamin A, Vitamin D, calcium and iron.
Additional Notes:
-If using frozen pie shell, choose the deep-dish size. Always bake your pie shell first to avoid a soggy crust.
-No water bath needed. The piecrust protects the custard filling from direct oven heat, so a water bath is not necessary.
-How to tell if it's done. Baked custards should be removed from the oven before the center is completely set. The center will jiggle slightly when dish is gently shaken. Custard will continue to "cook" after it's removed and center will firm up quickly. Overbaked custard may curdle. The knife test: Test for doneness with a thin-bladed knife. Insert knife about 1 inch from the center of a one-dish custard; midway between center and edge. If knife is clean when pulled out, the custard is done. If any custard clings to the blade, bake a few minutes longer and test again. Cheese fillings: Quiche fillings containing cheese may continue to test "wet" even after they are done. Tap or gently shake the dish; remove quiche from oven when the center is almost set but still jiggles a bit.
-For richer custard, substitute half-and-half for the milk.
Other Recipes That You Might Like