Scrambled Egg, Tomato, Mozzarella and Basil Sandwich
Start Your Day With This Gourmet Sandwich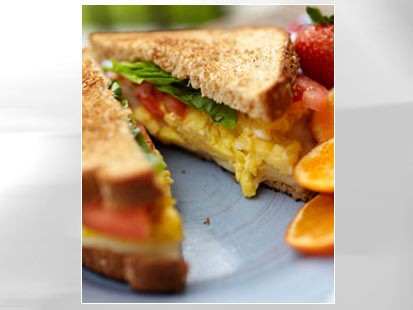 From the kitchen of Jeffrey Saad
Are you looking for a new egg dish? Try this tasty sandwich.
Ingredients
2 eggs
2 Tbsp. milk OR water
Salt and pepper
3 tsp. butter OR olive oil, DIVIDED
4 slices whole wheat OR white bread
2 slices mozzarella cheese
4 slices tomato
6 fresh basil leaves OR 1/4 tsp dried basil leaves
Cooking Directions
Beat eggs, milk, salt and pepper in bowl until blended.
Heat 1 tsp. butter in large nonstick skillet over medium heat until hot. Pour in egg mixture. As eggs begin to set, Gently pull the eggs across the pan with an inverted turner, forming large soft curds. Continue cooking – pulling, lifting and folding eggs – until thickened and no visible liquid egg remains. Do not stir constantly. Remove from pan. Clean skillet.
Spread remaining 2 tsp. butter evenly on one side of each bread slice (or brush lightly with oil). Place 2 slices in skillet, buttered side down. Top evenly with scrambled eggs, cheese, tomato and basil. Cover with remaining bread, buttered side up.
Grill sandwiches over medium heat, turning once, until bread is toasted and cheese is melted, 2 to 4 minutes.
Nutrition information per serving (1/6 of recipe) :359 calories; 19 g total fat; 9 g saturated fat; 1 g polyunsaturated fat; 6 g monounsaturated fat; 243 mg cholesterol; 491 mg sodium; 27 g carbohydrate; 4 g dietary fiber; 22 g protein; 925.2 IU Vitamin A; 24.1 IU Vitamin D; 60.8 mcg folate; 316.3 mg calcium; 2.5 mg iron; 150.4 mg choline.
This recipe is an excellent source of protein, calcium and choline, and a good source of fiber, Vitamin A, folate and iron.
Additional Notes:
• Avoid cast iron. Eggs scrambled in a cast iron skillet can turn a greenish shade. This harmless but unappealing color change is the result of a chemical reaction between iron in the pan and sulfur in egg whites.
• Don't overcook. The heat retained in the pan will continue to cook and firm up the eggs after pan is removed from heat.
• How long to beat? It's a matter of preference. Light beating produces more dense scrambled eggs. Vigorous beating aerates the eggs, resulting in lighter fluffier curds.
Recipe Summary
Main Ingredients: eggs, milk, butter, wheat bread, mozzarella, tomato, basil leaves
Course: Breakfast, Brunch