Heart Healthy Stew
No meat needed for this hearty soup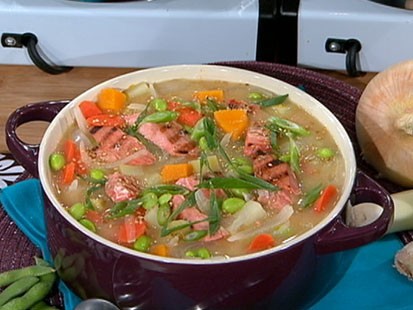 From the kitchen of Tosca Reno
|
Ingredients
2 Tbsp / 30 ml coconut butter
2 cups / 480 ml thinly sliced onion
8 oz wild salmon, cut into 1-inch chunks
1 cup / 240 ml carrots, thinly sliced (like pennies)
3 cups / 720 ml low-sodium vegetable stock
2 bay leaves
2 cups / 480 ml chopped Yukon gold potatoes
1 cup / 240 ml 1-inch chunks pumpkin, skin removed
1½ cups / 360 ml plain soy milk
1 cup / 240 ml edamame
1½ Tbsp / 22.5 ml miso, 3 scallions, trimmed and chopped on the diagonal
Cooking Directions
1 In large Dutch oven heat coconut butter. Add onion and cook until soft, about five minutes.
2 Add salmon, carrots, vegetable stock and bay leaves. Bring mixture to a boil. Reduce heat to simmer and cover. Cook for 10 minutes.
3 Remove lid and bring mixture to a boil again. Add potatoes, pumpkin and soy milk. Cook over medium heat for five minutes. Don?t let the soy milk come to a boil or it may curdle.
4 Add edamame. Simmer on very low heat for several minutes.
5 In small mixing bowl place miso. Using a soup ladle remove some of the broth and pour it over the miso. Mix broth and miso well. Transfer this mixture to the Dutch oven. Mix into soup and heat gently over very low heat.
6 Ladle into soup bowls and garnish with scallions. Serve hot.
Other Recipes That You Might Like