Twin Chefs: Mini Turkey Pita Tacos
A Tasty, Kid-Friendly Treat!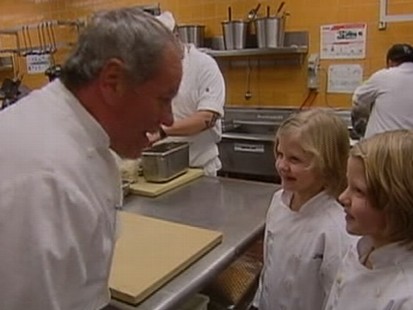 Cameron Mathison on the healthy options two young girls cook for their family.
From the kitchen of Twin Chefs
|
Twin Chefs Lilly and Audrey share their tasty recipe for mini turkey pita tacos.
Ingredients
1 lb. lean ground turkey
1 teaspoon ground ginger
½ teaspoon kosher salt
1 cup cucumber, small dice
3 green onions, sliced thin
½ cup sugar snap peas, sliced into half-inch pieces
¾ cup mandarin slices cut in half; we use little cuties that kids love!
¼ cup baby carrots, sliced thin
1 bag Whole wheat pita pockets
Maple Soy Drizzle
2 teaspoons soy sauce
3 teaspoons frozen orange juice concentrate
4 teaspoons maple syrup
8 Tablespoons olive oil
Cooking Directions
Always have a grown up helper with you for this recipe!
Make your maple soy drizzle first by putting all of the ingredients into a small container with a tight-fitting lid. We use a small Mason jar or jelly jar and shake well, set aside. Cut all of your vegetables and mandarins on a cutting board and set aside.
Heat a nonstick sauté pan to medium heat and crumble the turkey into the pan. Remember to wash up after! Break it up even more with a wooden spoon in the pan. When it begins to cook after about 2 minutes sprinkle the ginger powder and kosher salt over the turkey. Continue to cook and break up the turkey with the wooden spoon until there is no more pink showing, about 5 to 7 minutes.
On a plate with a paper towel remove the turkey from the pan and let it drain to remove any excess oil. Put the turkey into a medium bowl and add your cut up vegetables and mandarins. Cover the bowl with foil to keep the heat in.
On a cutting board using a pizza cutter (wheel) cut the pita into 4 sections each. Take the pizza cutter and round off the tip of each triangle to make the pita look like a mini taco shell, and repeat.
To serve, fill the mini pita shells with the turkey mixture until they are just going to over flow. We serve ours in small bowls to keep them upright. Drizzle the maple soy dressing over the top of each taco and serve.
This recipe was styled by chef Karen Pickus for "Good Morning America."
Other Recipes That You Might Like