Mario Batali's Asparagus Wrapped in Pancetta with Meyer Lemon Citronette
Try This Seasonal Dish for Dinner Tonight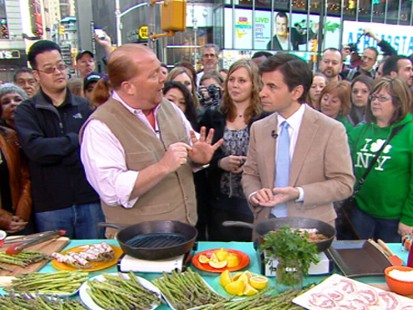 Mario cooks variations of classic meals that won't leave you tipping the scales.
From the kitchen of Mario Batali
Mario Batali skillfully uses seasonal and fresh ingredients to create all his popular dishes. This recipe is no different. On your next trip to the local green market or grocery store take a look for Meyer lemons and asparagus. Your family will thank you later.
Ingredients
For the asparagus:
2 pounds asparagus, medium to thick stalks (about ½ inch in diameter)
½ pound thinly sliced pancetta or unsmoked bacon
extra-virgin olive oil, for drizzling
1 lemon cut into wedges
Coarse sea salt, to taste
Freshly ground pepper, to taste
For the Meyer lemon citronette:
Grated zest and juice of one Meyer lemon
2 teaspoons Dijon mustard
¼ cup extra virgin olive oil
Kosher salt and freshly ground black pepper
1 ½ tablespoons finely chopped fresh thyme
Coarse sea salt
Cooking Directions
For the asparagus:
Preheat grill pan over medium heat. Snap off the bottom of each asparagus stem, which should politely break right where the woody part ends. Using a vegetable peeler, peel the bottom 3 inches of each stem.
Wrap the bottom ends of each asparagus in a thin slice of pancetta.
Place the wrapped asparagus on to the pan. Grill the asparagus until browned and almost charred all over and it is just cooked through, 6 minutes per side. Arrange on a platter, drizzle citronette over top and serve.
For the Meyer lemon citronette:
In a small bowl, whisk together the Meyer lemon zest, juice and mustard. Continuing to whisk, slowly drizzle in the olive oil until emulsified and smooth. Season the citronette with salt and pepper, and set aside.
This recipe was styled by chef Karen Pickus for Good Morning America.
CLICK HERE to check out the mouth-watering "Mario Batali Cooks!" iPhone application.
Recipe Summary
Main Ingredients: asparagus, meyer, lemon, olive oil, sea salt, pepper, dijon mustard, thyme
Course: Vegetable, Snack, Side Dish, Dinner, Appetizer/Starter
More Info: Kid Friendly