Whole-Wheat Rigatoni with Swiss Chard
Fill Up on This Healthy Pasta Dish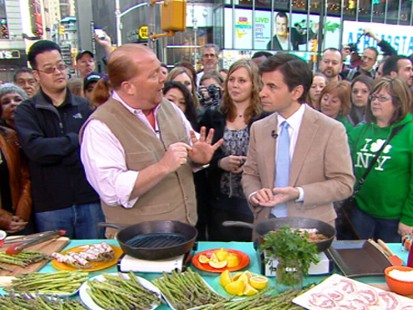 Mario cooks variations of classic meals that won't leave you tipping the scales.
From the kitchen of Mario Batali
Can decide what to make for dinner tonight? Mario Batali is here to help with his delicious and fresh pasta dish.
Ingredients
1 pound whole-wheat rigatoni
1/4 cup extra-virgin olive oil
1 medium red onion, halved and sliced 1/3-inch thick
3 garlic cloves, thinly sliced
1 pound Swiss chard, trimmed, stems and leaves sliced 1/4-inch thick
1/2 cup coarse fresh bread crumbs
Kosher salt, to taste
Freshly ground black pepper, to taste
Cooking Directions
Bring 6 quarts of water to a boil in a large pot.
Meanwhile, in a large saute pan, heat the oil over medium high heat. When oil is hot, stir in the onions and garlic slices. Add the chopped Swiss chard. Season with salt. Cover and cook for 5 minutes, or until chard softens.
Toast fresh breadcrumbs in a dry pan until toasted and deep brown but not burned. (watch carefully). Set aside.
When water is boiling, add 4 tablespoons of salt and drop in pasta. Cook pasta until two minutes short of package cooking time for al dente.
Uncover chard, stir and cook, for 8 or 9 minutes more, until chard is very tender.
Drain the pasta, reserving about 2 cups pasta water. Drop the pasta into the saute pan with the chard, along with a ladle of pasta cooking water. Toss thoroughly until the liquid is absorbed and the pasta is evenly coated, adding more pasta water if needed. Drizzle with extra-virgin olive oil and season with fresh pepper.
Serve the pasta in a bowl and sprinkle with bread crumbs over the top. Serve immediately.
This recipe was styled by chef Karen Pickus for Good Morning America.
CLICK HERE to check out the mouth-watering "Mario Batali Cooks!" iPhone application.
Recipe Summary
Main Ingredients: whole wheat rigatoni, olive oil, red onion, garlic, swiss chard, bread crumbs, sea salt, black pepper
Course: Starch, Pasta, Party Platter, Main Course