Stephanie O'Dea's Parmesan Tilapia
Fresh Steamed Fish Without the Fuss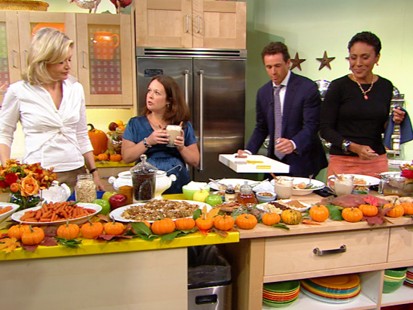 Stephanie O'Dea prepares maple-dijon chicken in a slow cooker.
From the kitchen of Stephanie O'Dea
|
When I began my everyday-for-a-year slow cooking challenge, I knew right away that I'd have to find new uses for the slow cooker. It just wouldn't be healthy to feed my family nothing but meat and potatoes daily—I needed to figure out how we could eat a wide array of foods.
Guess what? Fish steams to absolute perfection in foil packets in the slow cooker. I was thrilled to discover that not only does the fish cook beautifully (moist, flaky, packed-with-flavor), the clean up is a breeze and there is no fish smell. At all.
Using the slow cooker is a great way to free up valuable time during the hectic afternoon and early-evening rush when you're running between work and softball practice or swim lessons. Have your foil packet prepared and ready to go in the fridge, then simply plop into the cooker to steam while you're out and about.
Ingredients
¼ cup mayonnaise
½ cup shredded Parmesan cheese
4 garlic cloves, minced
2 lemons, juiced
pinch of kosher salt
pinch of black pepper
aluminum foil (you can use parchment paper if preferred)
4 tilapia fillets
Cooking Directions
Use a 6-quart slow cooker. In a small bowl, combine the sauce ingredients: mayonnaise, Parmesan cheese, garlic, lemon juice, salt, and pepper. Lay out a length of aluminum foil on your countertop and place all of the fish fillets in the center. Spoon the sauce evenly over the fish. Fold the foil over to make a packet surrounding the fish, and crimp the edges. Cover and cook on high for 2 hours (low 3 to 4 hours); fish will flake easily when fully cooked. Serve with your favorite side dishes (we usually do quinoa and steamed broccoli).
The Verdict
I can always count on my kids to eat a ton of fish when it's prepared this way. The sauce is creamy and tangy—a fantastic contrast to the mild tilapia. Don't freak out about the mayonnaise—there's only a little bit, and I promise it tastes great. Even people who don't like fish will like this recipe.
Stephanie O'Dea is a New York Times best-selling author of the Make it Fast, Cook it Slow cookbooks, blogger, slow-cookerer, and shortcut queen. Click here to find out more about her.
Other Recipes That You Might Like