Stephanie O'Dea's Balsamic Chicken and Spring Vegetables
Ring in Spring With This Festive Recipe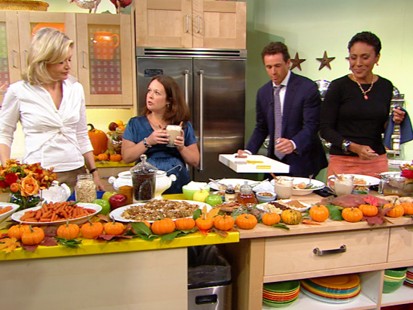 Stephanie O'Dea prepares maple-dijon chicken in a slow cooker.
From the kitchen of Stephanie O'Dea
I know the adage is that March roars in like a lion and out like a lamb. It's embedded firmly within the folds of my brain (I wonder what should be taking it's place?) and I repeat it to my children.
But I didn't believe it. Not this March.
It's been raining non-stop for weeks. WEEKS. But finally, here on the last day of March: the sun is shining, the birds are singing, and the guinea pigs have moved outdoors and are happily chomping on the overgrown weed patch (ahem. I mean lawn).
Ingredients
6 boneless, skinless chicken thighs
2 zucchinis, sliced into bite-sized pieces
2 yellow squash, sliced into bite-sized pieces
1 orange bell pepper, chopped
1 yellow bell pepper, chopped
1 red onion, peeled and sliced into rings
1 head garlic, peeled, cloves intact
¼ cup balsamic vinegar
2 teaspoons gluten-free Worcestershire sauce
¼ tsp kosher salt
¼ tsp black pepper
Cooking Directions
Use a 6-quart slow cooker. Place the chicken into the stoneware. In a large mixing bowl, combine the chopped vegetables, garlic cloves, vinegar, Worcestershire sauce, salt and pepper. Toss to combine. Pour this mixture on top of the chicken. Cover and cook on low for 6 to 8 hours, or on high for about 4. Serve with brown rice or quinoa.
The Verdict
This is a great spring dinner, and a nice segue from the heavy meat and potatoes dishes of the winter. The tartness from the balsamic vinegar contrasts nicely with the bit of mellow heat from the garlic. The vegetables cook down quite a bit, and create a lot of juice with the chicken. The kids did pretty well with this dinner, but the baby was the clear "winner." At 14 months, she ate more than her two older sisters combined—including the roasted garlic cloves!
Stephanie O'Dea is a New York Times best-selling author of the Make it Fast, Cook it Slow cookbooks, blogger, slow-cookerer, and shortcut queen. Click here to find out more about her.
Recipe Summary
Main Ingredients: zucchini, chicken, squash, orange pepper, yellow pepper, red onion, garlic, balsamic vinegar, worcestershire sauce, salt, pepper
Course: Party Platter, Main Course
More Info: Kid Friendly, Wheat/Gluten Free