Eva Longoria's Mexican Rice
Try Out This Classic Dish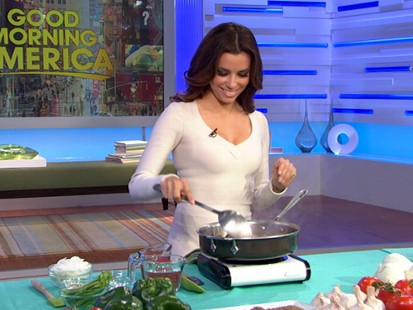 "Eva's Kitchen" is a new cookbook released by the "Desperate Housewives" star.
From the kitchen of Eva Longoria
Also known as Spanish rice, Mexican Rice is very difficult to make well. Once you add the tomato sauce and water, you can't really touch it or you'll ruin the texture. The hard part is knowing how much spice to add, because the rice won't properly absorb any seasoning once the water is absorbed. This makes it nearly impossible to perfect, and once it is done, it is done.
There's a saying in my family: "When you perfect the rice, you are ready to get married. But not until then." Follow my recipe and your Mexican Rice will be fabulous, too.
Include the chicken to serve it as a main course.
Ingredients
2 tablespoons vegetable oil
1 large white onion, chopped
5 garlic cloves, minced
1½ cups long grain white rice
2 tablespoons ground cumin
2½ cups Chicken Broth (page 51) or store-bought low sodium chicken broth, plus more as needed
1 14-ounce can tomato sauce
½ teaspoon kosher salt, or to taste
¼ teaspoon ground black pepper, or to taste
6 chicken drumsticks (about 1½ pounds, optional)
1 15-ounce can peas and carrots, drained (optional)
Cooking Directions
In a large skillet, heat the oil over medium heat until hot but not smoking. Add the onion and garlic and cook for 1 minute. Add the rice and cook, stirring occasionally, until the rice is golden brown,
6 to 8 minutes; lower the heat if necessary to keep the rice from burning. Stir in the cumin and cook for 30 seconds. Stir in the chicken broth, tomato sauce, salt, and pepper. Add the chicken, if using, and submerge it under the liquid.
Bring to a gentle boil, reduce the heat, cover the pan, and simmer until most of the liquid is absorbed and the rice is cooked, about 30 minutes. Uncover the pan a few times during cooking to check the liquid. Add more chicken broth if the rice starts to burn and sticks to the bottom of the pan. Do not stir during cooking; it causes the rice to break down and become sticky.
A minute or two before the rice is done, add the drained peas and carrots, if using.
Remove the pan from the heat. Let stand, covered, for at least 10 minutes and up to 1 hour before serving. Taste and season with salt and pepper if necessary. To serve, spoon the rice onto individual plates and place one or two drumsticks on top.
This recipe was styled by chef Karen Pickus for Good Morning America.
Click here to check out Eva's cookbook.
Recipe Summary
Main Ingredients: olive oil, white onion, garlic, long grain white rice, cumin, chicken broth, tomato sauce, kosher salt, black pepper, drumsticks, peas, carrots
Course: Starch, Party Platter, Main Course, Dinner
More Info: Kid Friendly