Emeril's Cantaloupe Frappe
Cool Off With Emeril's Refreshing Frappe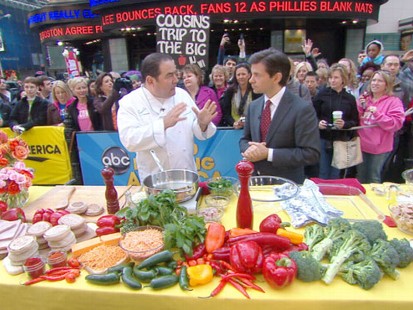 Emeril Lagasse serves up delicious breakfast dishes for deserving moms.
From the kitchen of Emeril Lagasse
|
Your kids don't like fruit? Not to worry Emeril has the solution. Try this delicious cantaloupe frappe. It's so good even picky eaters are sure to like it.
Ingredients
1 ripe cantaloupe, cut into 2-inch chunks, about 4 cups
1 1/2 cups plain almond milk
2 tablespoons clover honey
1 tablespoon raw sugar
2 teaspoons lemon juice
1/8 teaspoon salt
Crushed ice for serving
Cooking Directions
Add all ingredients except for the ice to a blender and blend on high for 2 minutes until smooth and frothy. Serve immediately over crushed ice.
This recipe was styled by chef Karen Pickus for Good Morning America.
Recipe courtesy Emeril Lagasse, copyright MSLO, Inc., all rights reserved
Other Recipes That You Might Like