Martha Hall Foose's Blackberry Lamb Chops
Lamb and Berries, the Perfect Match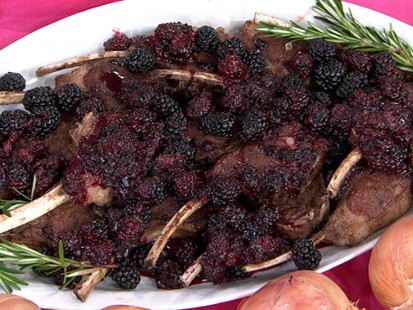 Foose dishes southern lovin' from her new cookbook, "A Southerly Course."
From the kitchen of Martha Hall Foose
|
I love berries and lamb. The deep flavor of tender spring lamb takes on the essence of first-of-the-season berries, blending a perfect combination of the sweetness with just enough tartness to make you pucker up.
Ingredients
2 t vegetable oil
1/2 c clived green onions, white and green parts
2 T pure maple syrup
1/8 t ground cloves
1 c fresh or thawed frozen blackberies
1 T red wine vinegar
1 T blackberry liqueur like Chambord
1/2 t ground allspice
1/4 t salt
1/4 t coarsely ground black pepper
4 (4-5 oz) lamb rib chops, but 1 in thick, or 8 (3 oz) lamb loin chops cut 1 inch thick
Cooking Directions
Heat the broiler with a broiler pan in it.
In a large skilled set over medium-low heat, heat the oil. Add the green onions, syrup, and cloves. Add 1/2 cup of the blackberries. Cook for about 4 minutes or until the berries have disintegrated and the sauce is just slightly thickened. Stir in the vinegar, liqueur, and the remaining 1/2 cup of berries. Remove from the heat.
In a small bowl, stir together the all spice, salt and pepper and sprinkle evenly over the chops. Broil in the heated pan, turning once halfway through cooking, for 12 minutes or until barely pink in the center.
Transfer the lamb to the skillet with the sauce and spoon some of the sauce over the lamb. Let rest in the sauce for 10 minutes before serving.
This recipe was styled by chef Karen Pickus for Good Morning America.
*Recipe courtesy of Martha Hall Foose from her book, A Southerly Course; Clarkson Potter, 2011.
Other Recipes That You Might Like