Mario Batali's Pastiera
Batali's Cheesy Warm Potato Dish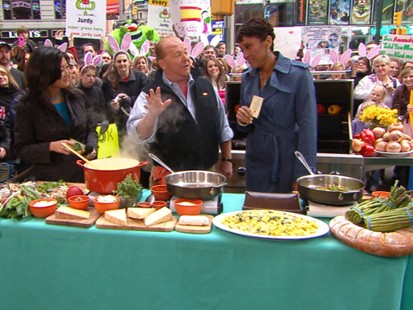 Master chef prepares Agnoloti alla Primavera, lamb, pastiera and asparagus.
From the kitchen of Mario Batali
|
Are you looking for a different potato dish for your Easter dinner? Try Mario Batali's Pastiera, it's easy and tasty.
Ingredients
4 tablespoons pomace olive oil
4 pounds potatoes, washed and peeled
1/2 cup plus 1-1/2 cups breadcrumbs
2 bunches chopped fresh parsley to yield 1/2 cup
1/4 cup virgin olive oil
1 cup grated pecorino
Cooking Directions
Preheat oven to 350 F.
In a 2 to 3 quart earthenware casserole with 2-inch to 3-inch sides, smear 4 tablespoons olive oil to cover.
Slice potatoes 1/4-inch thick and toss in a mixing bowl with 1/2 cup breadcrumbs and season well with salt and pepper. Mix remaining breadcrumbs with parsley, oil and pecorino. Put one layer of potatoes and breadcrumbs on bottom and sprinkle with 3 to 4 tablespoons breadcrumb and cheese mixture. Continue layering until dish is full and top with remaining breadcrumb-cheese mixture. Place in oven and cook 1 hour, or until potatoes are very soft and top is golden brown. Serve warm with duck stew (see following recipe).
This recipe was styled by chef Karen Pickus for Good Morning America.
*Recipe courtesy of Mario Batali
Other Recipes That You Might Like