Jacques Torres' Tempers Chocolate
Learn How to Make Chocolate from a Master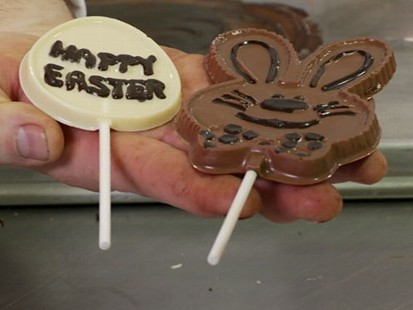 Jacques Torres shows you how to mold your own Easter candy.
From the kitchen of Jacques Torres
Chocolate master Jacques Torres explains how to prepare chocolate to be molded. Give it a try this Easter.
Ingredients
Chocolate
Tools you will need for this project:
Microwave oven
2 microwave-safe bowls, preferably glass
thermometer, preferably laser or instant read
rubber spatulas
immersion blender
hair dryer
ladle
paring knife
pastry scraper and/or offset spatula
wire cooling rack(s)
baking sheet(s)
parchment or wax paper
clean towels and chocolate molds.
Cooking Directions
Tempering, which requires more patience and care than skill, can be done in a variety of ways, but the end result must always be the same: a smooth, pure chocolate that will retain its satiny texture and shiny color once it has set. For our purposes, we will temper in the microwave oven.
Since the chocolate must reach and maintain exact temperatures, you need a perfectly calibrated thermometer. I use a digital laser thermometer, which is a good investment if you want to make tempering an easy job.
To temper in a microwave, place 2 lbs of chopped, room-temperature chocolate in a microwave-safe bowl, preferably glass, and melt on high for 20 seconds at a time until you achieve a lumpy mix with about one-third of the chocolate still relatively intact. Remove the bowl from the microwave and, using a rubber spatula, transfer the chocolate to a clean, cold bowl. Using a handheld immersion blender, mix the chocolate until it reaches 90°F (32°C) on a thermometer and all of the pieces are melted. This is an easy process, but it does take practiced guessing to estimate the initial two-thirds to one-third melting ratio. If the chocolate is too cold, use a home hair dryer and blow the hot air directly over the tempered chocolate, raising the temperature. If the chocolate is too warm, add additional pieces of chopped chocolate into the bowl and mix with the immersion blender.
You should always temper more chocolate than you think you need, as there is nothing more frustrating than being caught short in the middle of making something. Plus, a larger batch of tempered chocolate will hold its temperature longer.
Recipe Summary
Main Ingredients: chocolate
Course: Dessert