Jacques Torres' Molds Chocolate
Learn How to Mold Chocolate from a Master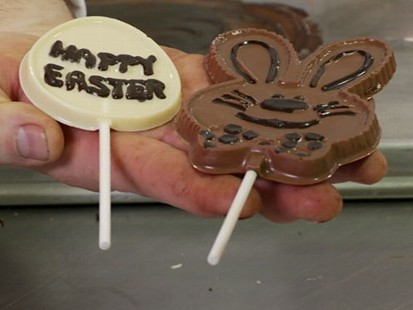 Jacques Torres shows you how to mold your own Easter candy.
From the kitchen of Jacques Torres
Chocolate master Jacques Torres explains how to mold chocolate. Give it a try this Easter.
Ingredients
Tempered Chocolate
Equipment
ladle
paring knife
pastry scraper
offset spatula
wire rack on a baking sheet (optional to line with paper for easier clean up)
some clean towels
Cooking Directions
To create hollow chocolate treats:
Using the ladle, carefully fill the mold with the liquid chocolate. Once the mold is full, invert it over the bowl of tempered chocolate and allow the excess chocolate to drip back into the bowl. It may be necessary to tap the sides of the mold to release any air bubbles that might form in the recesses of the mold. The mold should now be evenly coated with a thin layer (approximately 1/8 or 1/16 inch thick) of chocolate. Wipe the edges of the mold, or the edges surrounding each cavity of the mold, clean with a paring knife or pastry scraper. Place the chocolate-coated mold, open side down, on the wire rack. Let it stand for about 5 minutes, or until the chocolate begins to harden. Using the paring knife, scrape the edge of the mold absolutely clean of hardened chocolate. This step is important, because the chocolate retracts from the sides of the mold as it sets, and a clean edge will keep it from sticking and cracking as it shrinks. If necessary, you can place the mold in the refrigerator for a few minutes to speed the hardening, but do not leave it there for any length of time. Repeat all of the previous steps a second time, to ensure a nice even thickness of chocolate. Chocolate retracts as it cools, which ensures that once it has set it will easily pull away from a plastic mold.
To create solid chocolate treats:
Using the ladle, carefully fill the mold with the liquid chocolate. Do NOT invert the mold. Wipe the edges of the mold, or the edges surrounding each cavity of the mold, clean with a paring knife or pastry scraper. Place the filled mold in the refrigerator to harden. Once the chocolate has begun to pull away from the plastic it should
Recipe Summary
Main Ingredients: chocolate