Emeril's Pecan-Praline Candied Bacon
Emeril's Sweet and Smokey Side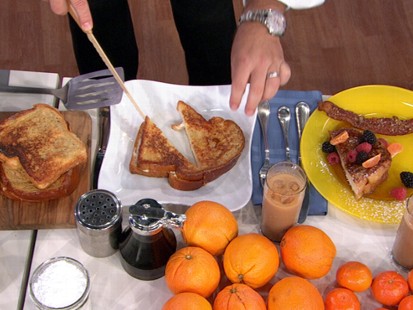 Chef Emeril Lagasse will leave soon to surprise a mother with breakfast in bed.
From the kitchen of Emeril Lagasse
Bacon is a universal breakfast favorite. This mother's day try Emeril's specially spiced bacon for something different. It's sure to be a hit with your mom.
Ingredients
2 teaspoons vegetable oil or nonstick cooking spray
1 cup packed light brown sugar
Freshly ground black pepper
1 pound sliced bacon (not thick-cut)
1 1/2 ounces finely chopped pecans
Cooking Directions
Preheat the oven to 350 degrees F. Line a large baking sheet with sides with aluminum foil, and position an ovenproof wire rack on top of pan. (Alternatively, line a broiler pan with foil and position a broiler rack on top of the pan. Lightly coat the rack with the vegetable oil or spray with nonstick cooking spray.
Place the brown sugar in a shallow dish, spreading in an even layer. Press 1 side of each slice of bacon firmly into the sugar to coat well. Arrange the slices of bacon on top of the rack in a single layer, sugared-side up, spreading slices so that they do not touch each other. (You may need to use two baking dishes if necessary). If there is any sugar remaining in the dish, sprinkle it on top of the bacon slices evenly. Sprinkle the bacon with black pepper to taste. Bake until the bacon is nearly crisp and the sugar is bubbly, 20 to 35 minutes, (the timing will depend on the brand and thickness of the bacon). Remove from the oven and sprinkle with the pecans. Return to the oven and cook until bacon is crisp and nuts are golden, about 8 minutes longer. Set bacon aside to cool for 5 minutes, then transfer to paper towels to drain briefly. Place on a plate or serving dish and serve either warm or at room temperature. (Can be made several hours ahead)
This recipe was styled by chef Karen Pickus for Good Morning America.
Recipe Summary
Main Ingredients: brown sugar, bacon, pecans
Course: Brunch, Breakfast