Emeril's Morning Jolt Cuppa Joe
Wake Up With This Steaming Cup of Coffee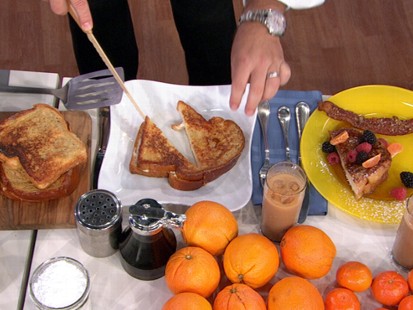 Chef Emeril Lagasse will leave soon to surprise a mother with breakfast in bed.
From the kitchen of Emeril Lagasse
|
Looking for a pick me up in the morning? Try Emeril's morning jolt cuppa Joe.
Ingredients
2 1/2 to 3 cups strong-brewed coffee, such as espresso, dark roast, or coffee with chicory
6 to 8 tablespoons condensed milk, or to taste
Cooking Directions
Divide the coffee equally among 6 or 8 coffee cups or over ice in tall glasses. Add about 1 tablespoon of the condensed milk to the cups, or to taste, and stir to blend.
Note: This intensely flavored sweetened coffee is based on New Orleans' love affair with the foods of the Vietnamese community and the intense flavors they have brought to our city. Equally delicious hot or over ice, this coffee surely packs a punch! Try experimenting with your favorite dark roast coffee or coffee and chicory, and for best results, brew coffee in a cold-drip coffee maker or in a stovetop espresso pot.
This recipe was styled by chef Karen Pickus for Good Morning America.
Other Recipes That You Might Like