Anton Mosimann's Caesar Salad
Try This Royal Favorite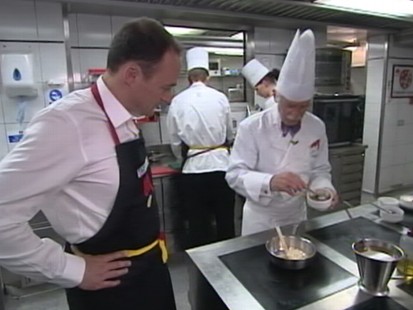 Anton Mosiman explains to Nick Watt efforts required to prepare a royal feast.
From the kitchen of Anton Mosimann
Princess Diana loved this Caesar salad, and now you can try it at home.
Ingredients
2 cos lettuce heads
Caesar Dressing:
2 egg yolks
2 anchovies
100 ml sherry vinegar (1/3 cup plus 5 teaspoons)
40 g finely grated Parmesan (3 tablespoons)
200 ml olive oil (3/4 cups plus 5 teaspoons)
100 ml vegetable stock (1/3 cup plus 5 teaspoons)
salt and freshly ground pepper
dash of Worcestershire sauce
Parmesan Croutons:
2 slices bread
4 tbsp clarified butter
60 g finely grated Parmesan (4 tablespoons)
Cooking Directions
Remove and discard the outer leaves and separate the remaining leaves from the heart of the lettuce. Wash and dry thoroughly. Keep refrigerated.
For the dressing place all ingredients in a blender. Blend until smooth and creamy.
Trickle the oil into the dressing and thin down with stock. Season to taste with salt, pepper and Worcestershire sauce. Keep refrigerated until needed.
For the croutons cut the bread into 5 mm cubes. Heat the butter and cook the croutons until golden brown. Drain well on kitchen paper. Place the croutons back in the cleaned hot pan.
Toss 1/3 of the cheese into crouton pan while they are still hot. Heat again if necessary to melt the cheese.
Arrange 3-4 lettuce leaves on individual plates. Drizzle some dressing over the lettuce, along with a sprinkle of the remaining Parmesan. Repeat lettuce, dressing and cheese procedure twice, making three layers on the plates.
This recipe was styled by chef Karen Pickus for Good Morning America.
Recipe Summary
Main Ingredients: lettuce heads, parmesan, anchovies, bread, clarified butter
Course: Salad
More Info: Kid Friendly